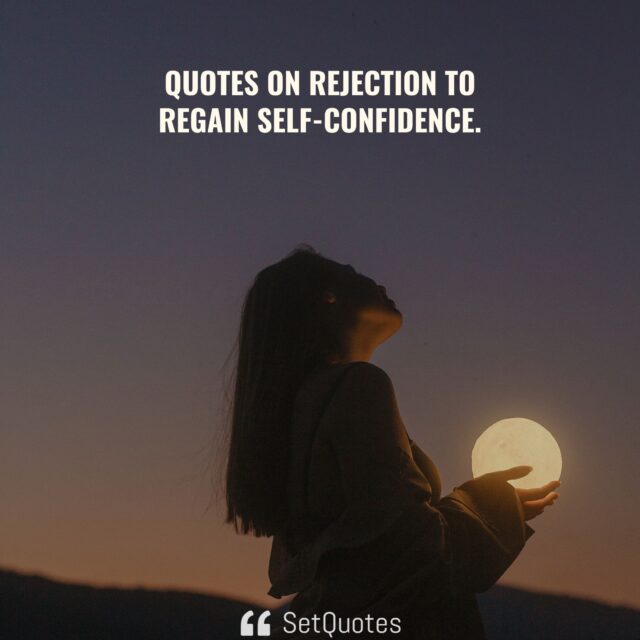 Every day we face rejection in some form or another. There are times when we push someone or something away, and then there are times when we are pushed away. Rejection is painful, no doubt, but that's how it goes. There are times when all we can do is accept reality and get over it.
It is not about embracing fake positivity or ignoring the sad moments. It is perfectly alright to feel sad. Sadness is also an emotion. However, it is important not to hold on to something for too long, especially when you are unable to control the situation.
No matter how difficult the situation is, never lose hope. No one is perfect in this world. Everyone has a flaw, and ultimately that's what makes us unique. As long as we accept the fact that there is room for improvement, there's always a way to make things better.
If something doesn't go according to plan, see if there is anything you can do to fix it. If you can resolve it, do so, or if it's something you can't control, just get over it.
Some days we get rejected, while other days we may reject someone else for our own reasons. Perhaps the best thing we can do is to try to put ourselves in someone else's shoes to better understand their perspective. Rejection is a fact of life. Even though it's painful, it should not be viewed negatively. A rejection is not the end, but a beginning to something more meaningful and fulfilling.
Presenting quotes on rejection by famous authors to illustrate that, no matter how tough things might seem, they'll still move on. Therefore, we shouldn't hold on to anything for too long.
Here are some quotes to help you regain self-confidence after rejection
A man who rejects you is simply clearing the way for the One you deserve. – Naide P Obiang
Every new beginning comes from some other beginning's end. – Seneca
Don't be afraid to give up the good to go for the great. – John D. Rockefeller
A clear rejection is always better than a fake promise. – Zig Ziglar 
When you're following your inner voice, doors tend to eventually open for you, even if they mostly slam at first. – Kelly Cutrone
The more you praise and celebrate your life, the more there is in life to celebrate. – Oprah Winfrey
There will come a time when you believe everything is finished. That will be the beginning. – Louis L'Amour
Rejected pieces aren't failures; unwritten pieces are – Greg Daugherty
A rejection can serve as a redirection
Rejection is a common occurrence. Learning that early and often will help you build up the tolerance and resistance to keep going and keep trying. – Kevin Feige
Life is really simple, but we insist on making it complicated. – Confucius
You will face many defeats in life, but never let yourself be defeated. – Maya Angelou
Sometimes you have to move on without certain people. If they're meant to be in your life, they'll catch up. – Mandy Hale
The past is a stepping stone, not a millstone. – Robert Plant
In three words I can sum up everything I've learned about life: it goes on. – Robert Frost
Sometimes rejection in life is really redirection. – Tavis Smiley
Without experiencing criticism and rejection in life, it would be impossible to grow or improve yourself. – Mwanandeke Kindembo
Life is tough, but so are you. – Carmi Grau
I have learned not to allow rejection to move me. – Cicely Tyson
Rejection is a part of life
If you spend your whole life waiting for the storm, you'll never enjoy the sunshine. – Morris West
Knowing yourself is the beginning of all wisdom. – Aristotle
Those who rejected you were preparing you for those who would accept you. – Matshona Dhliwayo
Forgive yourself for your faults and your mistakes and move on. – Les Brown
Every time I was being rejected from something good, I was actually being redirected to something better. – Steve Maraboli
However difficult life may seem, there is always something you can do and succeed at. – Stephen Hawking
Human beings, like plants, grow in the soil of acceptance, not in the atmosphere of rejection. – John Powell
Acceptance, under someone else's terms, is worse than rejection. – Mary Cassatt
I believe that rejection is a blessing because it's the universe's way of telling you that there's something better out there. – Michelle Phan
Clouds come floating into my life, no longer to carry rain or usher storm, but to add color to my sunset sky. – Rabindranath Tagore
Rejection shouldn't lead to self-rejection
Sometimes life hits you in the head with a brick. Don't lose faith. – Steve Jobs
The greatest trap in our life is not a success, popularity or power, but self-rejection. – Henri Nouwen
Rejection doesn't have to mean you aren't good enough; it often just means the other person failed to notice what you have to offer. – Ash Sweeney
Rejection isn't failure. Failure is giving up. Everybody gets rejected. It's how you handle it that determines where you'll end up. – Richard Castle
If a circle shuts you out, draw a circle around it. – Marty Rubin
Rejected pieces aren't failures; unwritten pieces are. – Greg Daugherty
Rejection teaches you about where you stand. There is nothing wrong with that. When I look back at the time, I don't regret being rejected, but I regret wasting years. – Neeraj Agnihotri
A rejection is nothing more than a necessary step in the pursuit of success. – Bo Bennett
When everything seems to be going against you, remember that the airplane takes off against the wind, not with it. – Henry Ford
Every ending leads to a new beginning
A best friend is the only one that walks into your life when the world has walked out. – Shannon l. Alder
Rejection gives you more power to push forward. – Jeremy Limn
I think all great innovations are built on rejections. – Louis-Ferdinand Celine
The secret of life is to fall seven times and to get up eight times. – Paulo Coelho
The greatest glory in living lies not in never falling, but in rising every time we fall. – Nelson Mandela
Life is short. You have to be able to laugh at our pain or we never move on. – Jeff Ross
Life is 10% what happens to you and 90% how you react to it. – Charles R.Swindoll
With love and patience, nothing is impossible. – Daisaku Ikeda
I think all great innovations are built on rejections. – Louise Berliawsky Nevelson
It is necessary to put yourself out for rejection, and accept that you will be rejected. – Robert Genn
Life doesn't stop for anyone, so you shouldn't either
Keep your face always toward the sunshine – and shadows will fall behind you. – Walt Whitman
It is during our darkest moments that we must focus to see the light. – Aristotle
Successful people reject rejection. – John C. Maxwell
In three words I can sum up everything I've learned about life it goes on. – Robert Frost
The more you do, the more you fail. The more you fail, the more you learn. The more you learn, the better you get. – Michelle Phan
Never give up. Today is hard, tomorrow will be worse, but the day after tomorrow will be sunshine. – Jack Ma

Do not dwell in the past, do not dream of the future, concentrate the mind on the present moment. – Buddha
If you fell down yesterday, stand up today. – H. G. Wells
Life is not about how many times you fall down. It's about how many times you get back up. – Jaime Escalante
The harder you fall, the heavier your heart; the heavier your heart, the stronger you climb; the stronger you climb, the higher your pedestal. – Criss Jami
We hope you find these motivational quotes on rejection inspiring and will help you see a source of light no matter how dark things may seem in your life to live it to the fullest. Share your favorite quote in the comments below.