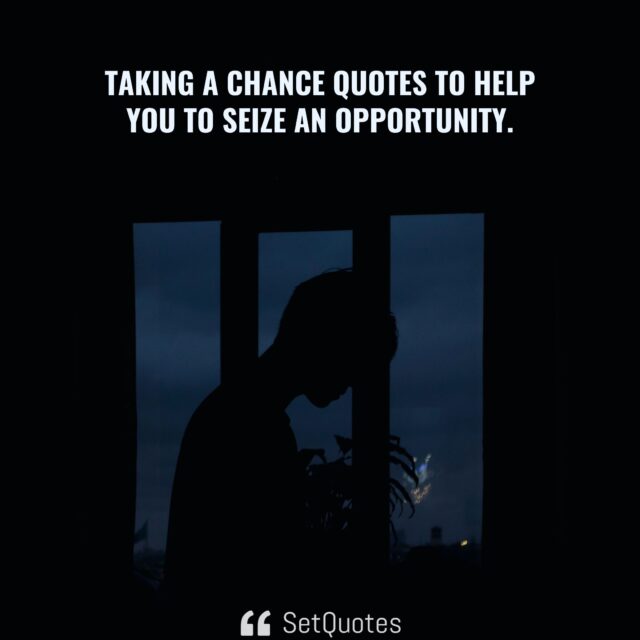 The possibilities are endless as long as we're willing to take a chance on securing the correct one. The quickest way to lose a chance is to not take it at all. Doesn't it seem that we fail at the same time that we don't participate?
Success and failure are nothing more than outcomes. Taking a chance and putting in an honest effort is what counts. Never be afraid to take a chance. No matter what happens, you will be able to try again. However, you will leverage your past experiences this time, which is what matters the most.
Great things will require more skill and ability than we currently possess. We go beyond the boundaries when we aim to exceed them.
Don't let fear of failure keep you from trying. Recognize that not taking a chance is no less than failure. Success comes from taking action. Don't wait for anything and just get started. Every moment is an opportunity to take the first step.
Here are some quotes about taking a chance to motivate you to push yourself every day.
Take a Chance Quotes to Motivate You to Take the First Step
You miss 100 percent of the shots you never take. – Wayne Gretzky
Everything you've ever wanted is on the other side of fear. – George Addair
The secret of getting ahead is getting started. –  Mark Twain
When we allow ourselves to become vulnerable, to take chances, and to risk our pride, that is when we find our own glory. – Richard Corman
Never let the odds keep you from doing what you know in your heart you were meant to do. – H. Jackson Brown, Jr.
You will never experience personal growth, if you fear taking chances. – T Sorensen
Never let your fear of the unknown and things being too difficult make your choices for you in life. One of the saddest lessons in life is finding out that your fear made the situation worse than what it was and a braver person stole the dream you gave up on. – Shannon L. Alder
Do not fear failure but rather fear not trying. – Roy T. Bennett
Test fast, fail fast, adjust fast. – Tom Peters
I've found that luck is quite predictable. If you want more luck, take more chances. Be more active. Show up more often. – Brian Tracy
Failing to take a chance is no less a failure
The size of your dreams must always exceed your current capacity to achieve them. – Ellen Johnson Sirleaf
Take a chance! All life is a chance. The man who goes farthest is generally the one who is willing to do and dare. – Dale Carnegie
If you stop being afraid of the word no and take more chances, you will get more yes. – Jeanette Coron
We may encounter many defeats but we must not be defeated. – Maya Angelou
There is no passion to be found playing small – in settling for a life that is less than the one you are capable of living. – Nelson Mandela
The important thing is not being afraid to take a chance. Remember, the greatest failure is to not try. Once you find something you love to do, be the best at doing it. – Debbi Fields
Nothing's ever simple. I just don't want you to ignore possibilities out of fear. Sometimes you have to take a leap of faith, believing that somebody's going to catch you. – Nadia Lee
When something extraordinary shows up in your life in the middle of the night, you give it a name and make it the best home you can. – Barbara Kingsolver
Opportunity is missed by most people because it is dressed in overalls and looks like work. – Thomas Edison
It's better to try and fail than not to try at all
The journey of a thousand miles begins with one step. – Lao Tzu
Each failure to sell will increase your chances for success at your next attempt. – Og Mandino
You don't have to be great to start, but you have to start to be great. – Zig Ziglar
Take a chance! All life is a chance. The man who goes farthest is generally the one who is willing to do and dare. – Dale Carnegie
Only those who will risk going too far can possibly find out how far one can go. – T. S. Eliot
Never let the fear of striking out keep you from playing the game. – Babe Ruth
99 percent of success is built on failure. – Charles Kettering
A life spent making mistakes is not only more honorable, but more useful than a life spent doing nothing. – George Bernhard Shaw
The difference between a successful person and others is not lack of strength not a lack of knowledge but rather a lack of will. – Vince Lombardi
You learn so much from taking chances, whether they work out or not. Either way, you can grow from the experience and become stronger and smarter. – John Legend
Failure serves as a stepping stone when we learn from our mistakes
You can measure opportunity with the same yardstick that measures the risk involved. They go together. – Earl Nightingale
Being defeated is often temporary, giving up makes it permanent. – Marilyn von Savant
If you aren't making some mistakes, you aren't taking enough chances. – John Sculley
If you are never scared, embarrassed or hurt, it means you never take chances. – Julia Soul
What you do today can improve all your tomorrows. – Ralph Marston
Nothing will ever be attempted, if all possible objections must be first overcome. – Samuel Johnson
I am always doing that which I cannot do, in order that I may learn how to do it. – Pablo Picasso
The greatest glory in living lies not in never falling, but in rising every time we fall. – Nelson Mandela
The only safe thing is to take a chance. – Mike Nichols
Don't let your fear of failure limit your vision
What you get by achieving your goals is not as important as what you become by achieving your goals. – Zig Ziglar
A man would do nothing, if he waited until he could do it so well that no one would find fault with what he has done. – Cardinal Newman
I fear the boredom that comes with not learning and not taking chances. – Robert Fulghum
A failure is not always a mistake, it may simply be the best one can do under the circumstances. The real mistake is to stop trying. – B. F. Skinner
The only way of finding the limits of the possible is by going beyond them into the impossible. – Arthur C. Clarke
Necessity is the mother of taking chances. – Mark Twain
We hope these motivational quotes on taking a chance inspire you and help you to seize the right opportunities. Share your favorite quote in the comments below.