Opportunity is missed by most people because it is dressed in overalls and looks like work.
– Thomas Edison
All of us have great dreams in our minds, and many of us are able to turn those dreams into goals, but only a very few are able to make it happen, and the simple reason is, it takes a lot of hard work.
Hard work and perseverance are essential to success, skills and expertise can feel underpowered without hard work. Nothing worth having comes easy, big dreams take hard work and dedication. If it were that easy, almost anyone could achieve it.
The world is full of opportunities, but only for those who have the right mindset and perspective. On the other hand, nothing works when one already loses it before even setting foot in the door.
Having the attitude of a winner is what it takes because you have to first win it in your thoughts before you can do it in reality, because things get tough when you have already lost it in your mind. The more you put into something, the more you will get out of it. Don't shy away from difficult things, for putting in the ordinary effort will result in ordinary results. If you want something that the rest cannot provide, you have to walk extra miles.
Talent and skill are worthless without hard work
Hard work does not necessarily mean working day and night. It is about having clear goals and objectives, and planning is what allows you to achieve them. Here hard work is more about having smart plans and micro-tasks which you can put into every day that may take you in the right direction.

It takes a combination of smart planning and hard work, putting in an effort without clear objectives can lead to somewhere else. You must always have goals and clear objectives in mind in order to move forward in the right direction.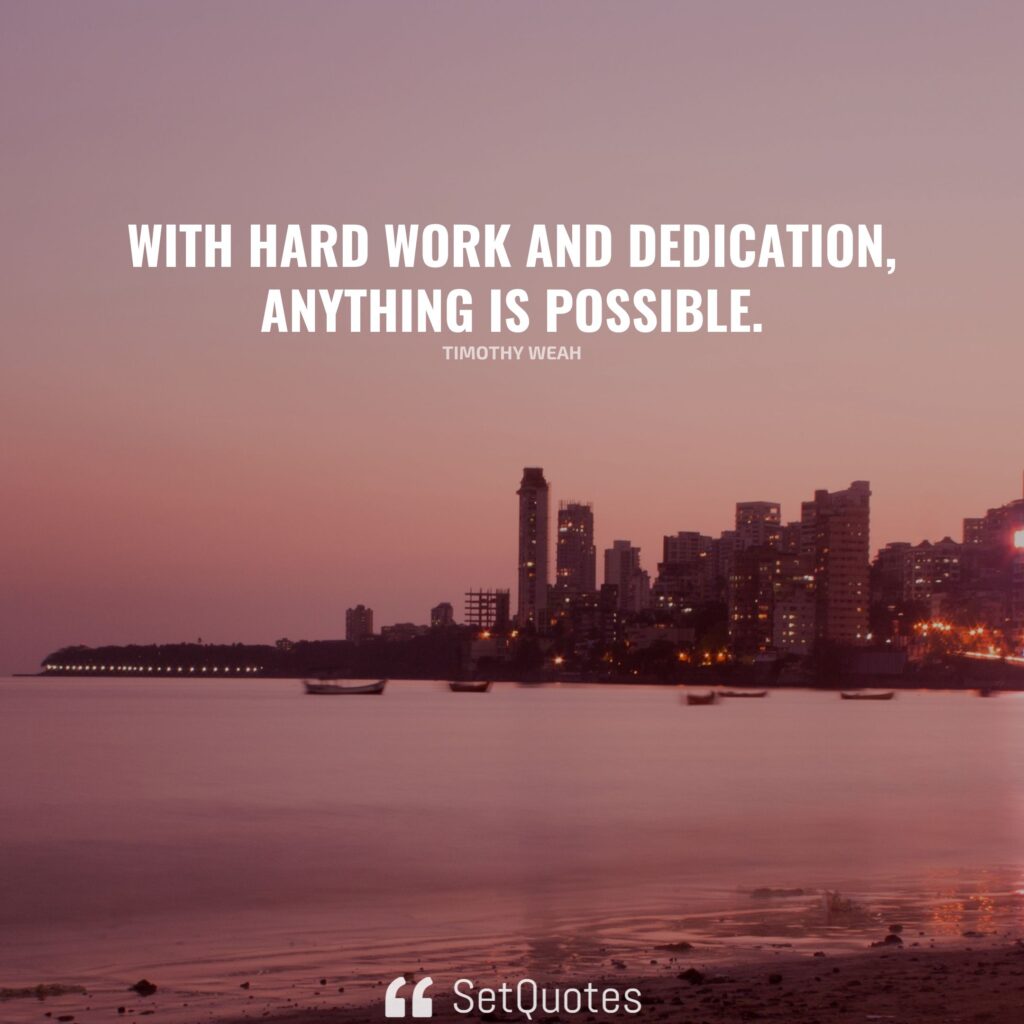 With hard work and dedication, anything is possible.
– Timothy Weah
Don't rely on luck, there is nothing like magic. The great opportunities are usually captured by those who really work for them. There is no substitute for hard work, there are no shortcuts. Quick and easy tricks may bring results but they may not last long.
Nothing is as effective as consistency, that is what brings consistent results. Persistence, planning, and hard work are the only tried and tested formulas.
Don't expect it to be easy. Rather, let it be harder because the harder it is the less crowded it gets. In the end, you have to put it into practice; simply hoping doesn't work.
Opportunities are often missed because they appear difficult.
There is one great quote by Colin Powell, "There are no secrets to success. It is the result of preparation, hard work, and learning from failure".
Overnight success is a myth, nothing great has ever happened in a short period of time. If takes nothing to achieve something, it also takes nothing to lose it too. Behind the scene, there is always countless hours of hard work. Don't hope for easy, Instead, upgrade your capabilities to reach your goals.
With love and patience, nothing is impossible.
– Daisaku Ikeda
Don't miss an opportunity in fear of failing at it, One fails at the same moment when they decide to not take part due to fear of failing at it. Don't let challenges set the limit on your vision, embrace the challenges, get used to them.
Abraham Lincoln, Once Said: "Some achieve great success, is proof to all that others can achieve it as well".
Almost anyone can attain anything and capture nearly any kind of opportunity as long as they believe in themselves and work for it with a strong determination.
Honesty and integrity within yourself are the keys to success; self-reflect, know who you truly are; discover your true potential; and, identify what makes you stand out from the rest. Make everything clutter-free by planning ahead and setting clear objectives.
Never let your own thoughts defeat you; never let overthinking rob you of your true abilities. With the right mindset, positive actions, great planning, and great hard work, almost anyone can seize any opportunity.
Thinking is the hardest work there is, which is probably the reason so few engage in it.
– Henry Ford