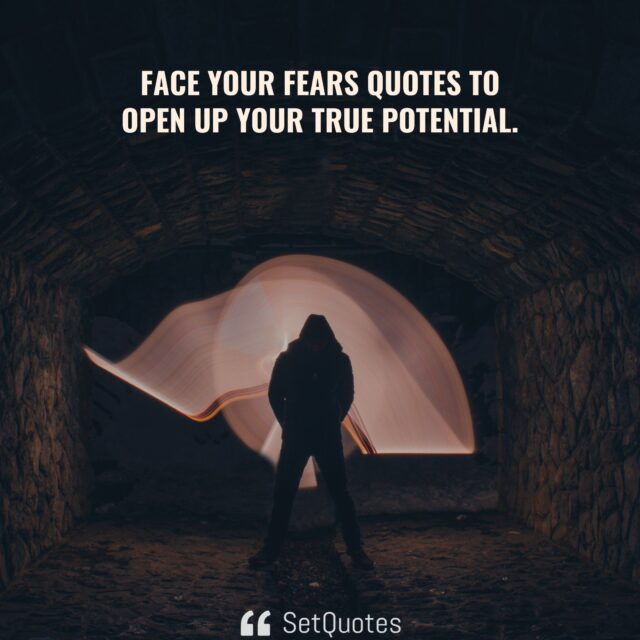 Fear comes in two flavors: healthy fear and bad fear. Healthy fear protects us. Fear of crashing, for example, prevents us from driving fast. Alternatively, a bad fear is what hinders us, such as a fear of public speaking or stage fright.
In order to overcome your fears, you need to face them head-on. You should not let fear of the unknown keep you from exploring the unknown. To overcome challenges, you need to face them straight on.
Don't let fear of failure stop you from seizing the right opportunities. It takes more courage to take the first step, but once you do that, everything else falls into place.
Never let your fear of failure limit your potential. Do not let yourself be limited by negative thoughts. Aim for something that takes more ability than you possess, since that's the only way to go beyond what you're capable of. The best things come from overcoming difficult challenges.
Here are some quotes about facing your fears to motivate you to achieve your limitless goals.
Quotes about facing your fears to unlock your true potential
Courage is knowing what not to fear. – Plato
Courage is resistance to fear, mastery of fear, not absence of fear. – Mark Twain
Everything you've ever wanted is on the other side of fear. – George Addair
Never let the fear of striking out keep you from playing the game. – Babe Ruth
One of the greatest discoveries a man makes, one of his great surprises, is to find he can do what he was afraid he couldn't do. – Henry Ford
He who is not everyday conquering some fear has not learned the secret of life. – Ralph Waldo Emerson
All our dreams can come true, if we have the courage to pursue them. – Walt Disney
Don't let fear limit your potential
The only way of finding the limits of the possible is by going beyond them into the impossible. – Arthur C. Clarke
The brave man is not he who does not feel afraid, but he who conquers that fear. – Nelson Mandela
You miss 100 percent of the shots you never take. – Wayne Gretzky
In every success story, you will find someone who has made a courageous decision. – Peter F. Drucker
It is during our darkest moments that we must focus to see the light. – Aristotle Onassis
Inaction breeds doubt and fear. Action breeds confidence and courage. If you want to conquer fear, do not sit home and think about it. Go out and get busy. – Dale Carnegie
Life shrinks or expands in proportion to one's courage. – Anais Nin
We may encounter many defeats but we must not be defeated. – Maya Angelou
The bravest sight in the world is to see a great man struggling against adversity. – Seneca
Challenges are what make life interesting and overcoming them is what makes life meaningful. – Joshua J. Marine
Courage is the first of human qualities because it is the quality which guarantees all others. – Winston Churchill
Each of us must confront our own fears, must come face to face with them. How we handle our fears will determine where we go with the rest of our lives. To experience adventure or to be limited by the fear of it. – Judy Blume
We hope these motivational quotes on facing fears will inspire you and motivate you to do the things you are afraid of the most. Share your favorite quote in the comments below.