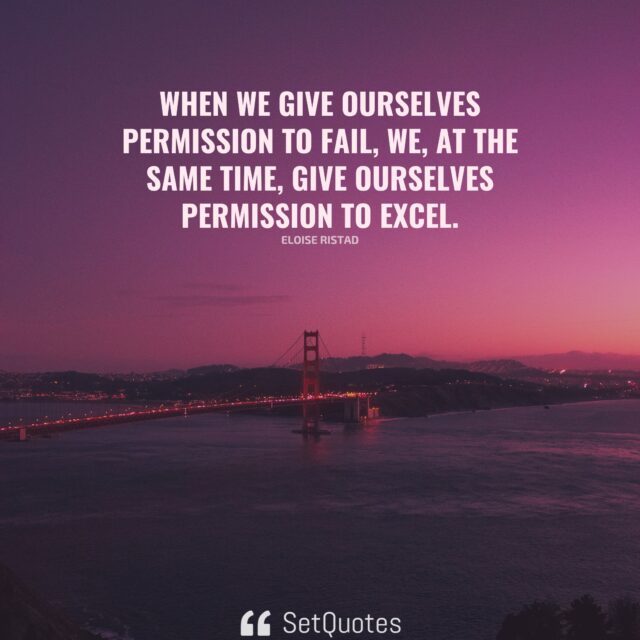 When we give ourselves permission to fail, we, at the same time, give ourselves permission to excel.
– Eloise Ristad
Meaning of this quote:
In our everyday lives, failure is inevitable and much expected across all phases of life. And it is likely to occur for anyone who starts something new or attempts something for the very first time.
That's why avoiding failure can also mean not trying up with new ideas due to fear of failure. And that's why allowing ourselves permission to fail can also mean overcoming the fear of failure so we can try or start something new.
As long as we focus on the goal rather than success or failure, great things happen. When we have the determination to achieve the goals, failure can't become an obstacle towards reaching our goals, because that is what gives us the courage to keep trying even after setbacks.
Failure comes from making the same mistakes over and over.
Giving ourselves permission to fail does not mean we should always fail. Remember, repeating the same mistakes will lead to disaster.
For example, this isn't meant for students to keep failing exams and allowing themselves to fail. Making avoidable mistakes absolutely leads to failure.
A key message in this quote is that one shouldn't let the fear of failure stops from taking the first step when they begin something new or want to make a big life decision.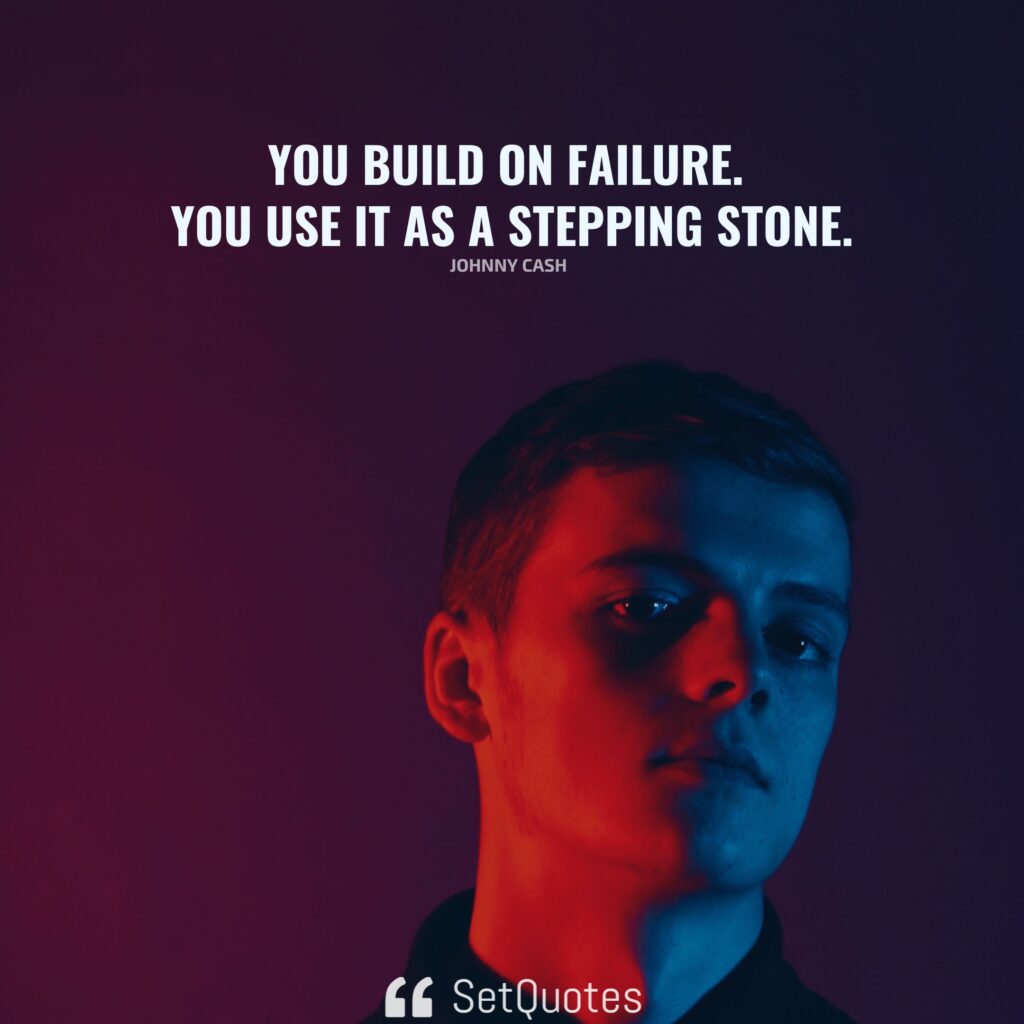 You build on failure. You use it as a stepping stone.
– Johnny Cash
Consider this example: What if kids fail to learn how to ride a bicycle out of fear of falling from it? Falling from it is a natural part of learning to ride and mastering the skill.
Often, the biggest mistake is not making any mistakes, since not making mistakes could be an indication that you're not experimenting or simply doing the same thing you've always done. You are less likely to make a mistake when you do something that you've already mastered. But when you do the opposite, you have a much higher probability of making a mistake.
By allowing ourselves to fail, we give ourselves a chance to explore something new.
What if someone who has really achieved a great goal has never taken that first step towards the journey of their dream just because of fear of failure?
When we experiment with something new, don't we most likely make mistakes?
The most important thing is to not give up and keep working hard, even after defeat. Failure teaches us more than anything else, as it reveals the true meaning of success and makes us more humble.
It is perseverance and hard work that make the difference. Consistency is the most powerful thing. Learning from mistakes and consistently doing what you have to do will eventually allow you to master the skill.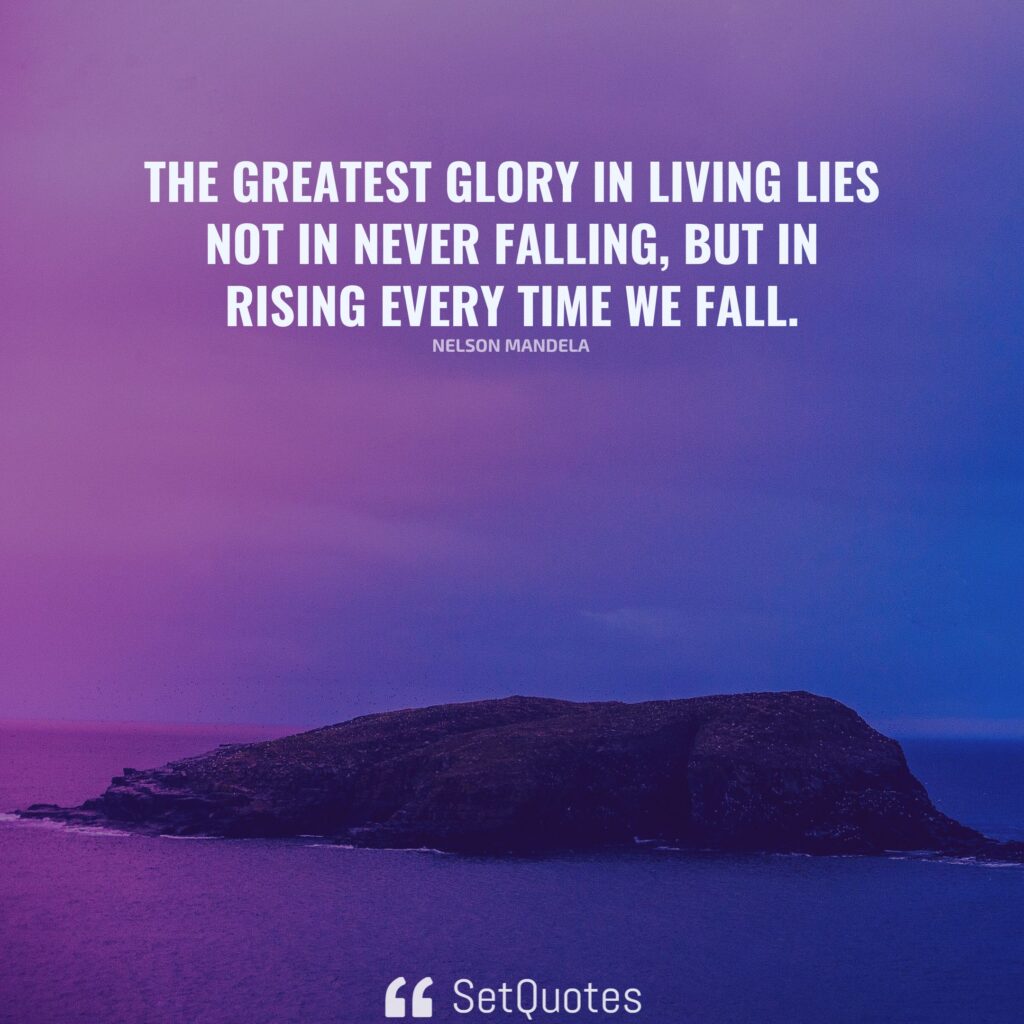 The greatest glory in living lies not in never falling, but in rising every time we fall.
– Nelson Mandela
A failure is nothing but a phase in life, and it's not permanent, especially for those who don't give up and keep trying without losing their confidence and hope. Great things are usually accomplished by those who learn from their mistakes and strive to be better than they were before.
Henry Ford, once said: "Failure is simply the opportunity to begin again, this time more intelligently".
Let failure act as fuel and let it allow you to do things again but this time with greater accuracy and precision. Let it be a stepping stone for those who learn from their mistakes and do not repeat them.
Real failure happens when we give up on trying in fear of failing at it. There is no end-point, as long as you don't give up and keep doing your best to get out of those challenging situations.
The same is true for most people who have achieved great success. Behind every great success story, you will find stories of failure as well. That is why there is no point in giving up or not following your goals just because you are afraid of failure. Losing begins as soon as you decide not to participate.
If you're not prepared to be wrong, you'll never come up with anything original.
– Ken Robinson