Two heads are better than one.
– John Heywood
What does 'Two heads are better than one' mean?
The phrase 'Two heads are better than one' emphasizes the importance of teamwork. The most effective solutions are often discovered by more than one head. Putting two right minds together on the same problem is likely to result in a better solution.
There's another phrase 'Four eyes are better than two' which also expresses the same idea.
When there are more than one head and two eyes, it becomes easy to find the loopholes. When you own a common goal, vision, and mission with a team, great things happen.
Doesn't it seem that covering long distances is easy when there are more than two heads in the car who can switch seats? Or isn't it true that when two programmers work together, it's easier to fix code or find a better solution than if they worked alone?
We can achieve our dreams when we work together. When like-minded people come together who share the same dream, goal, purpose, and passion, expect a masterpiece.
Origin of the phrase 'Two heads are better than one'
The following passage in Ecclesiastes 4:9 of Miles Coverdale's Bible was published in 1535 and explains why it is better to have two heads instead of one:
"Therfore two are better then one, for they maye well enioye the profit of their laboure."
Heywood published "A Dialogue", a popular book on English proverbs, in 1546, stating the same concept; "Some heades haue taken two headis better then one. But ten heads without wit, I wene as good none."
In recent years, various authors have adopted modern and standardized versions of this phrase.
When everyone works together, a dream becomes a reality
A dream becomes a reality when you surround yourself with people who share the same vision, purpose, and aspirations as yours. All remarkable things around us are the result of effective teamwork.
Human brains are much more complex and efficient than computers. There is no substitute for the human mind. Wonderful things happen when two minds with the same purpose and vision come together.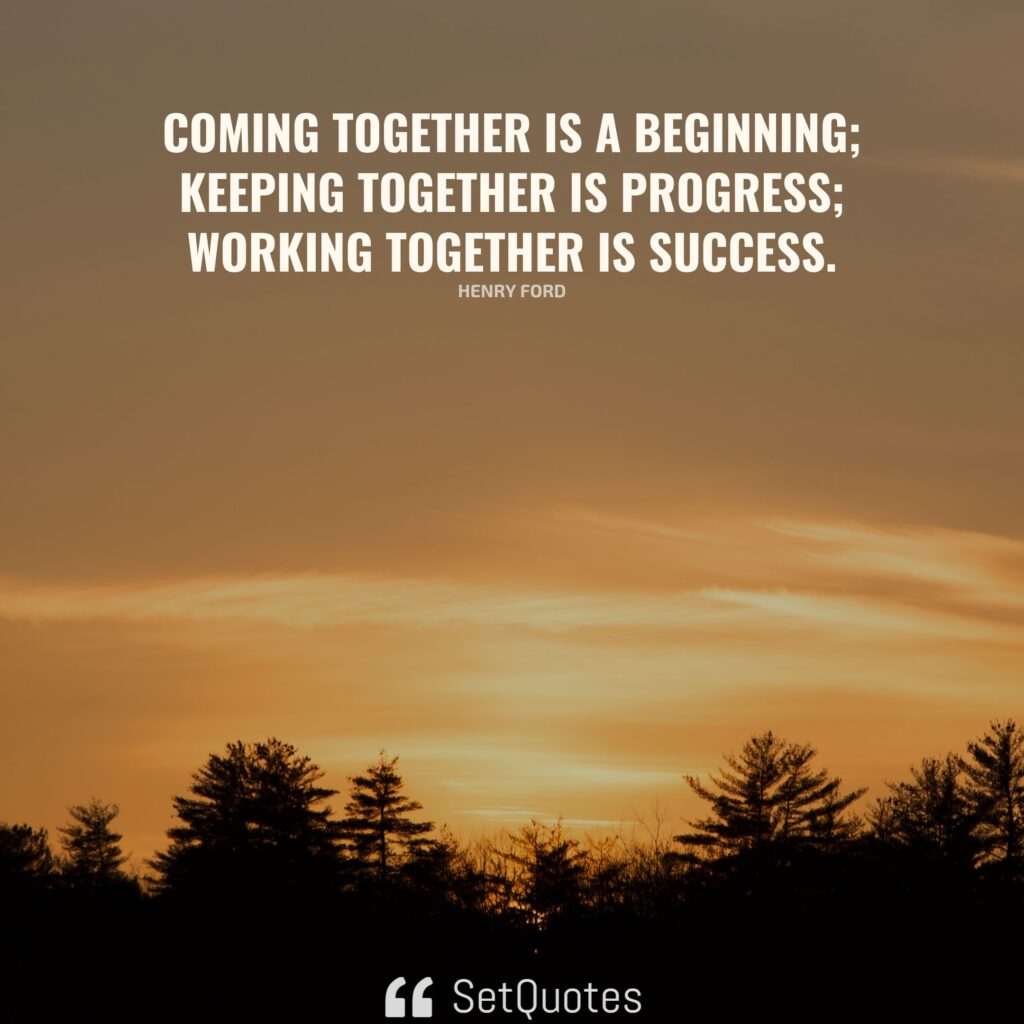 Coming together is a beginning; keeping together is progress; working together is success.
– Henry Ford
Success is achieved by bringing like-minded people together in order to meet goals and dreams together. An obstacle becomes less of an obstacle when one surrounds oneself with the right people.
When you're a part of the right team, they can be your ray of light in the darkest of times. Having the right team is the key to opening up new possibilities.
Whether it's trekking or off-roading, isn't it fun to do adventurous activities with people who share the same interest? Doesn't it make you feel better to know you're backed up by a group if anything unexpected happens?
Great things in business are never done by one person. They're done by a team of people.
– Steve Jobs
It takes people to grow, or thrive. There is no one who can do everything or is proficient at everything. Ultimately, you need people who know what they are doing. Do we not often end up doing nothing when we try to do everything on our own?
It is the people who make any business or venture successful, whether they are employees or consumers. At the end of the day, the future of a brand lies in the hands of every human associated with it.
Do two heads always make a better decision?
You are shaped greatly by the people around you. Making the right choices begins with choosing the right people. The surest route to ending up in the wrong place is to be in the wrong company and associate with the wrong people.
There's a famous quote by George Washington, "It is better to be alone than in bad company."
Two right-minded heads are better than one. However, one right-minded person is more effective than two opposite-minded people. Being alone is far better than being part of a toxic group. How your life turns out depends on your associations.
Being surrounded by unproductive people will not lead to productivity. One productive head cannot produce anything with another unproductive head.
Collective growth occurs when like-minded individuals work together for the same goals.