There is no passion to be found playing small, in settling for a life that is less than the one you are capable of living.
– Nelson Mandela
Meaning of this quote:
There is no point in settling down. You shouldn't settle for anything less than what you are capable of. Be honest with yourself and don't compromise.
Realize that growth happens when we strive for it rather than settling for less. Never limit yourself from expanding your abilities, always aim higher.
Growth comes when we aim for something that requires much more than what we're capable of. Being limited by the limits is what brings mediocre results.
Life is truly a gift. And time is priceless. The key is to use it in a way that allows us to expand our horizons.
Aim for something greater than yourself, let it give you a sense of purpose and push you to push all of your boundaries.
Strive to become more than you are now
We grow when we develop a hunger for it. On the other hand, nothing exciting happens when we underutilize our current capacities. The key is to do something every day that requires more than you have.
Isn't it true that we must dream it first before we can make it real? Isn't it true that we need to visualize it first before it becomes a reality?
The future belongs to those who believe in the beauty of their dreams.
– Eleanor Roosevelt
Having a meaningful vision and setting it as a goal is just the beginning. What it ultimately tests are the way you plan things out and how you execute them. Without them, everything else is pointless.
The key is to not allow your goals to be limited by the fear of failure. Understand that failure is more likely to occur when we attempt something we have never done before.
We should not let failure stop us from doing something creative or exciting. Because when we allow it to stop us, ultimately that's where we fail to measure our limits.
Passion does not come from playing small
Passion cannot be inspired by doing less than you're capable of. That's probably what happens when we allow our fears and insecurities to overwhelm us.
Following a passion is certainly not easy. It takes more than hard work and effort. What it takes is a realistic approach and the willingness to embrace and learn from failure and mistakes. Nothing significant has ever been achieved in one go, rather it was accomplished in small steps over time.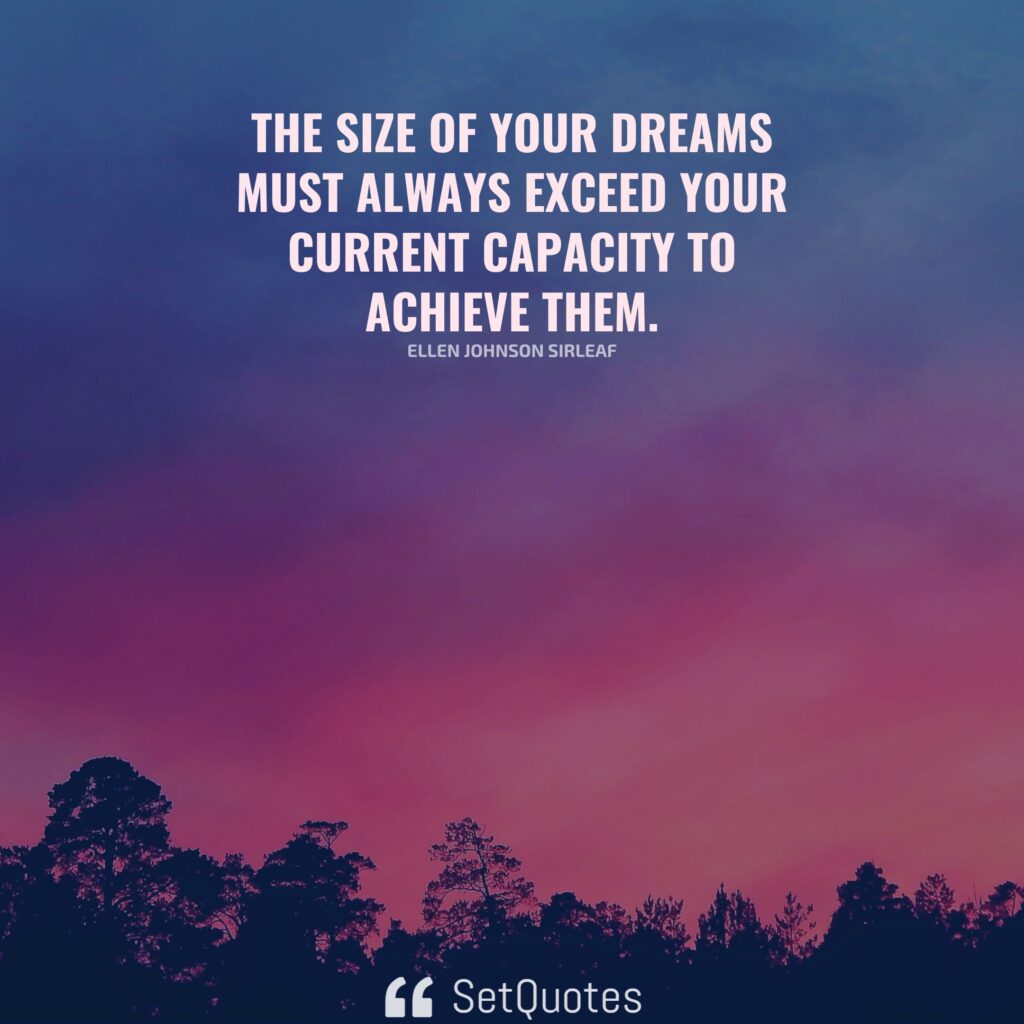 The size of your dreams must always exceed your current capacity to achieve them.
– Ellen Johnson Sirleaf
Dreams and goals always demand more skills and abilities than you currently possess. You can either accept the challenge and push your limits, or you can play within your comfort zone without stretching your boundaries.
The creation of every beautiful thing we see around us is the result of passion and desire. Passion fuels determination and strong determination helps us continue pushing forward despite failure or setbacks.
You don't need anything but your own determination to get started. Nothing can be done without it irrespective of your current capabilities.
Our lives are filled with failures and challenges. They are likely to occur at every step of our life and most likely to occur when we start a new endeavor. The way we react to failure or challenges determines the outcome.
Trust yourself, believe in yourself, and understand that no limit exists unless you set one for yourself. Let your passion drive you to achieve your grand goal, and through the accomplishment of those goals, let it make you a better person than you were before.
The only limit to our realization of tomorrow will be our doubts of today.
– Franklin D. Roosevelt