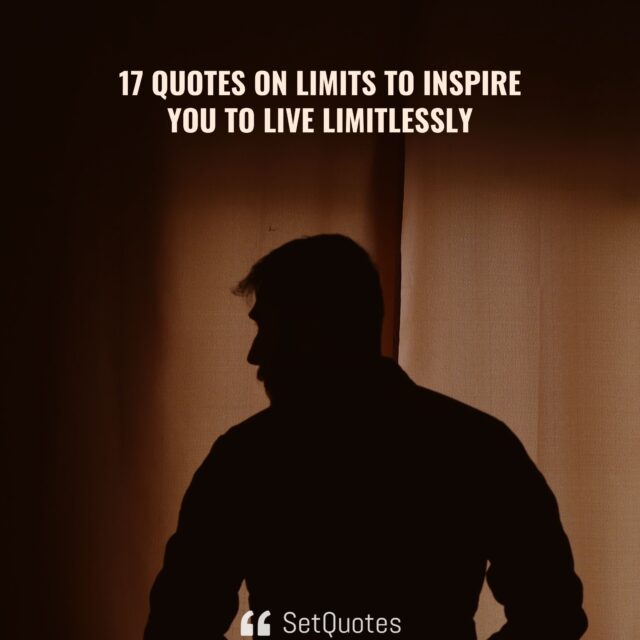 There are times when the only limits are those our minds impose on themselves. How we think and perceive is what counts most. Often it's our thoughts that make things difficult.
Limits don't exist unless we set them as a result of overthinking. There is a fine line between reasoning and overthinking. Be sure that your thoughts are helping you find the most effective way, instead of creating confusion.
Isn't it true that to exceed our limits, we must aim for something beyond our limits? To keep playing within the limit is not a way to exceed it. Real growth happens when we constantly strive to push our boundaries.
Don't let your own beliefs about yourself hold you back. Realize that almost anyone can achieve almost anything as long as they take a realistic approach, plan things out, work consistently, and learn from their mistakes. Our attitude is what defines us most.
We've gathered some of the best quotes on limits to help you achieve goals that demand more than your current abilities.
Here are 17 quotes on limits to inspire you to live a limitless life
You can't put a limit on anything. The more you dream, the farther you get. – Michael Phelps
Our thoughts and imaginations are the only real limits to our possibilities. – Orison Swett Marden
How many colors are there in a field of grass to the crawling baby unaware of "green"? ― Stan Brakhage
The only way to discover the limits of the possible is to go beyond them into the impossible. – Arthur C. Clarke
There are no great limits to growth because there are no limits of human intelligence, imagination, and wonder. – Ronald Reagan
As the sun knows; even the sky is not the limit. – Rasheed Ogunlaru
Never say never, because limits, like fears, are often just an illusion. – Michael Jordan
One extends one's limits only by exceeding them. – M. Scott Peck
All limits are self-imposed. – Icarus
One finds limits by pushing them. – Herbert A. Simon
The only limits you have are the limits you believe. – Wayne Dyer
A man who limits his interests, limits his life. – Vincent Price
Either push your limits or suffocate in your comfort zone. – Arun Purang
You only know yourself when you go beyond your limits. – Paulo Coelho