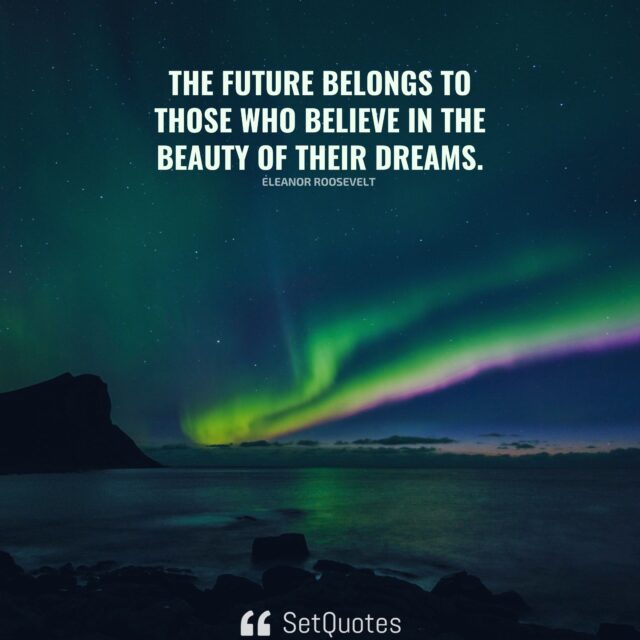 The future belongs to those who believe in the beauty of their dreams.
– Eleanor Roosevelt
Meaning of this quote:
A. P. J. Abdul Kalam, Says: "You have to dream before your dreams can come true". Happiness is the most valuable asset and it can be achieved by those who follow their heart. Spend each and every second of your life by doing what you love. Believe in the beauty of your dream and keep up the great work. Don't lose the faith and keep believing in your dreams.
Don't give up:
Remember one thing great things always take more time rather than ordinary. The difference between extraordinary and ordinary is just that extra. Don't give up on your dreams just because it's hard and taking much more time.
You need a vision for your dream and courage to follow the path. Live your dream because it's an ultimate way of happiness. We are blessed with the one life so let's make it the best.
Don't give up just because your path is difficult because it often leads to beautiful destinations.
Never give up. Today is hard, tomorrow will be worse, but the day after tomorrow will be the sunshine. – Jack Ma
Know the story behind the success, but never neglect the courage and sacrifices. Don't just embrace the success instead of that embrace your courage, which chooses to not give up no matter what.There are many untold stories behind the successful man. There are two things common to every successful person and that is courage and sacrifices.
The future belongs to those who hustle:
Dream and quotes will not work until you do. Motivate yourself and keep working until it gets done. Dream without any plan is just a wish. If you want your dream to come true, then set the goal and start working because the future belongs to those who never give up.
Once you become fearless, life becomes limitless. Great things achieved by those who play outside of their comfort zone. Only you can set your own limits. You're the most powerful person because you have the power to decide what the best you can do for the universe.
Follow your dreams and happiness will follow you.
It takes a courage and lots of sacrifices to follow the dreams. Remember one thing there are lots of people who can't follow their dreams or they give up due to their some limitations or crisis.
Make sure you follow your dream and live your passion if your family gives a 100% of your dreams. If you are reading this on your own device that means you're already blessed with many things.
Positive attitude always wins. No one can stop you if you can be positive in any situation. Self-motivation is the key to success. Give up on the negativity. Life keeps changing continuously, learning is the fuel of success. Give up on the negativity and read some great books which can shape your mind.
Chasing the Dreams or Chasing the Money:
Money is the most important thing to survive in the world. Money is just a one of the important thing, but it is not everything. Don't dream of getting rich instead of the dream of getting peace. Don't get confused with happiness and money because money is just an asset while happiness is one of the aspects of life.
Henry Ford, Says: "A business that makes nothing but money is a poor business". Don't chase the money, Chase your dreams. Bill Gates is right now the world's richest person, But his dream was "A computer in every house" instead of wealth. There is one common thing in every rich or successful entrepreneur and that is their problem-solving skills. Behind every successful entrepreneur, there is a dream which has the ability to enhance our lives.
Don't work for money, Work for your passion. The future belongs to those who live their dreams. Stop chasing happiness and money because you will never be satisfied no matter how much you gain.
find the purpose of your life. Choose your dream as a path and follow that. The only way to live a happy life is to live what you love.
Don't lose hope just because you can't make enough money by following your dream:
In the first year, Coca-Cola sold an average of just nine glasses a day. The company now sells 1.4 billion beverage servings every day.
Source:
Don't lose hope if you can't make a huge and be happy after all you're doing something which you're passionate about. Be positive in every situation and never give up.
You're doing something which you love and that's the more important and valuable than anything.
Positive attitude and a healthy mind can buy happiness.
If you have great family support and you don't have any chances of the financial crisis, then make sure you choose the path of your dream. Explain your idea to your family and be humble if they can't understand.
Choosing hobby as a career can bring happiness in your life. Feel each and every moment of your life and live your passion.
The future belongs to those who follow their dreams. At the end, it's all about the dream. Explore your life and live your dream each and every second. You don't need any master-plan If you're passionate about something.
Every great thing takes time. Don't lose hope and keep working on your dreams. Hard-work always pays off.
Do what you love, Happiness will follow you. Do the things which take you close to your destination and it doesn't matter how much slower you go as long as you don't give up.
Jim Rohn, Says: "Happiness is not something you postpone for the future; it is something you design for the present".
The future belongs to those who can be happy and positive in any situation. Optimism is the key to success. Happiness can define you and your future. Live your moments and keep yourself busy on the things which matter the most.
I'm looking forward to the future, and feeling grateful for the past.
– Mike Rowe