The power of imagination makes us infinite.
– John Muir
Meaning of this quote:
The sky is the limit when it comes to imagination. There are no boundaries to it, and that's what enables us to go beyond them.
The power of imagination is no less than a superpower. Every magnificent thing around us owes its existence to the imagination of someone. Without imagination, nothing is possible.
Isn't it true that we need to visualize it first before bringing it to life?
Imagination is all about pushing boundaries. It is the key to innovation. We envision it first and then turn that vision into a reality through hard work, dedication, and strong determination.
We create what we imagine
Dreams are the beginning of everything. We create our reality from our thoughts and imaginations. We think and become what we think. The power of the mind is immense. It reshapes the way we live.
When you think of challenges or obstacles, your mind will concentrate on finding them, and you might be able to attract more this way. Similar to that, think about opportunities, and you may attract plenty of them.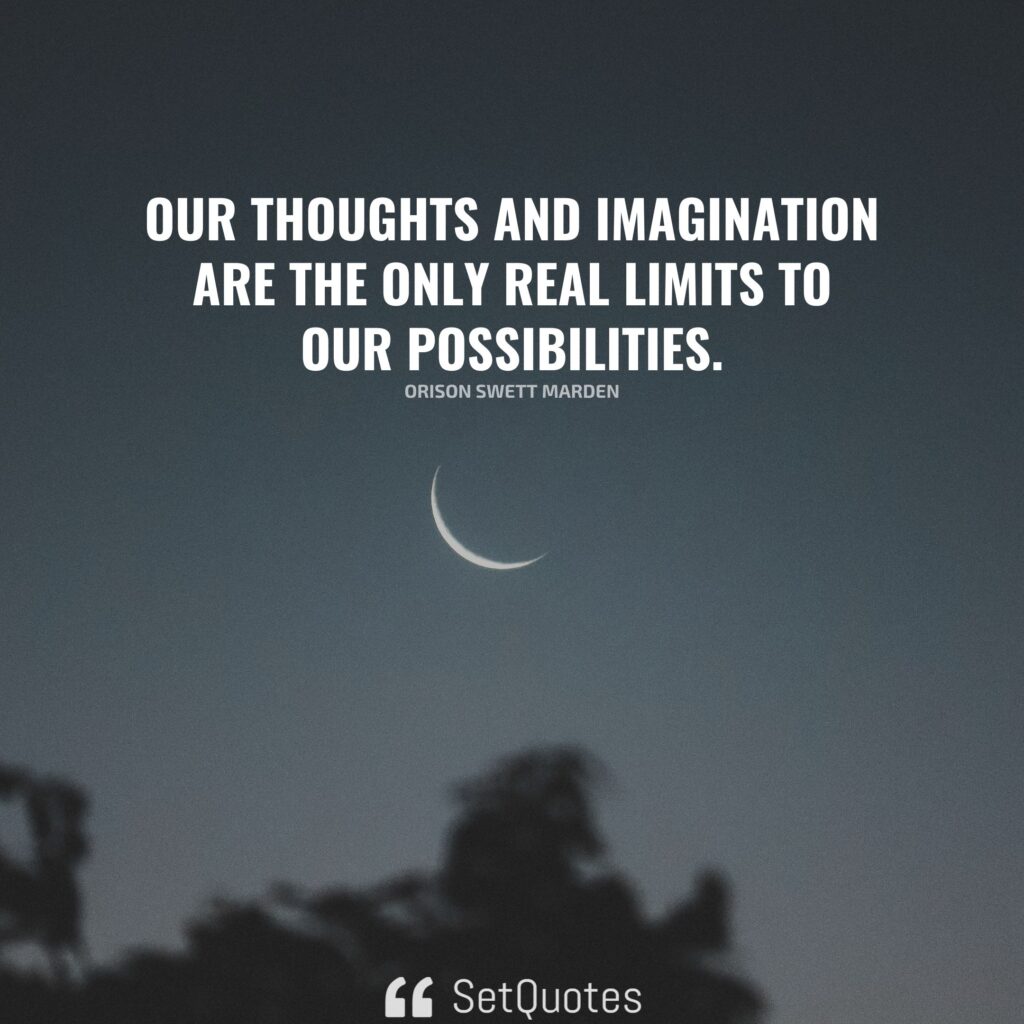 Our thoughts and imagination are the only real limits to our possibilities.
– Orison Swett Marden
A remarkable invention is the result of someone's imagination and creativity. When we visualize something, it gives us a sense of purpose for executing it.
Imagining something is one thing, but executing it is another. Without execution, even the most ambitious vision becomes a wish. As you envision something, make sure it is tied to your short-term and long-term goals, and let the proper process allow you to accomplish both simultaneously.
Dreamers are not just dreamers, they are doers as well. A vision or idea is worthless without action. In the end, it takes hard work, courage, and a realistic approach.
The mind is everything. Everything we do is driven by our minds. Everything we experience is controlled by our minds, be it a vision, dream, imagination, or action. Every opportunity has a struggle, and it is from struggles that opportunities are created. Train your mind to find a source of light no matter how dark it may seem.
When we imagine the impossible, we reach beyond our limits. The process of turning the impossible into the possible makes us stronger, wiser, and better than we were before.