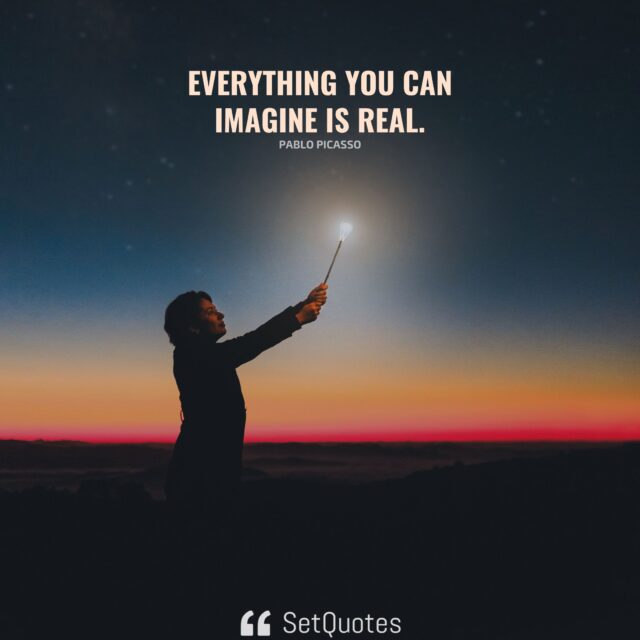 Everything you can imagine is real.
– Pablo Picasso
Meaning of this quote:
Imagination is everything, nothing can be done with the lack of Imagination. Every great thing around us was nothing more than an Imagination, It was someone's courage, passion, and strong determination which turns the vision into a reality.
It takes great planning to come up with a great idea, and visualization itself is an act of planning. We visualize a lot, no matter how big or small the thing is. Our brains create perceptions long before we interact with or experience them in reality.
Isn't it that our mind creates the mental blueprint on its own when we decide to do certain things no matter how small or big it is?
We visualize everything first and form the perceptions. One can imagine something in a negative way and perceive the future event in a negative manner, or as an opposite, It can be done in a positive way as well.
One's imagination may have a huge influence because, at the end of the day, that's what determines how one may perceive certain things for the future, and this is what represents how one thinks.
Your thoughts are very powerful
Thoughts are what shapes life, this is what represents who you are. Change your thoughts and It will help to re-shape your actions and this will ultimately lead towards the best results.
The way you think and perceive defines everything including your mindset. Use your visualizing capabilities in the most positive way possible and It will bring exceptional results, as the opposite, a negative approach may damage something exceptional that you've built over years.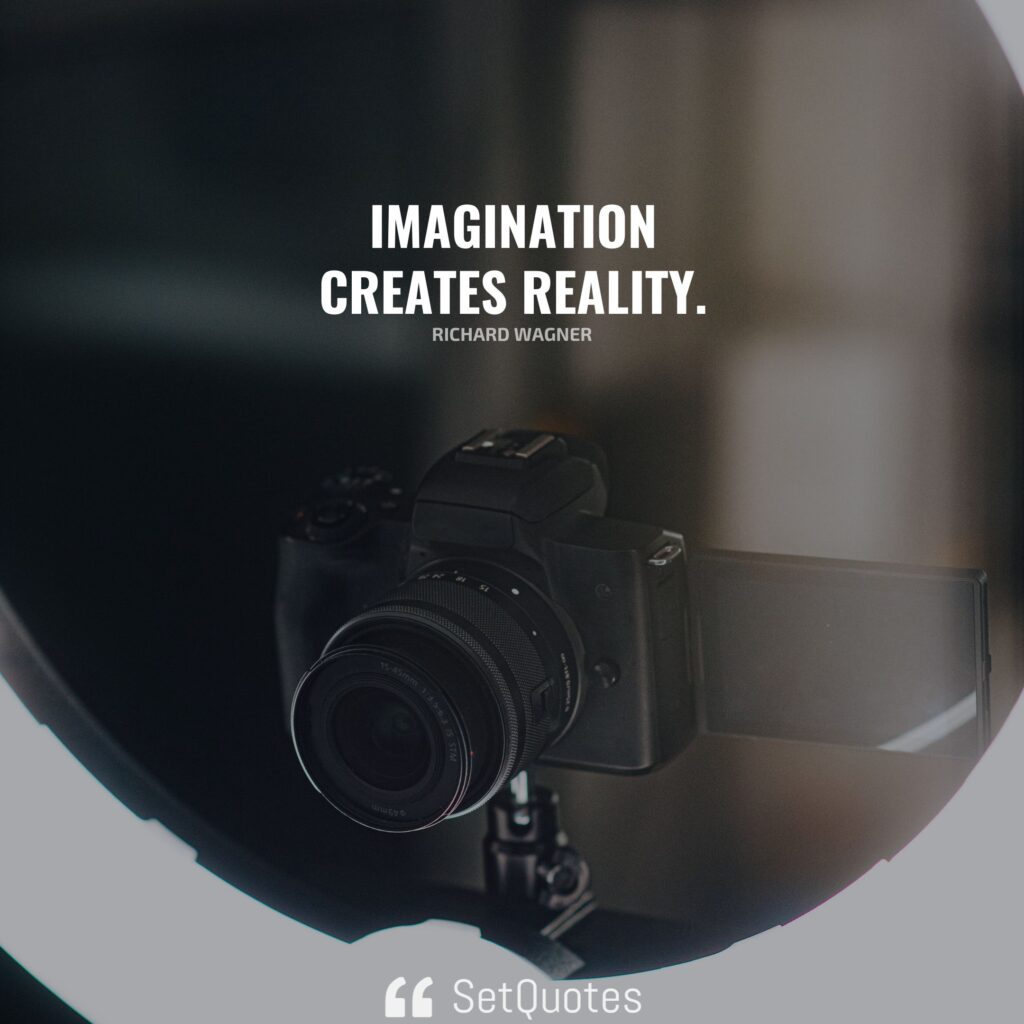 Every great journey starts with Imagination, it's the first starting point behind every great thing around us. Imagination isn't anything less than a superpower we humans possess. And that's a reason It makes no real sense to take our own capabilities for granted.
Everyone is unique and everyone is blessed with something beautiful which separates them from the rest and makes them distinguish. Use your Imagining capabilities for your own good and to figure out what fits you best and what you can do best for yourself and for others around you.
You shouldn't use your own superpower to make yourself doubt your own capabilities. Don't let overthinking drag you in a direction where you doubt your own abilities. Wisdom is to realize that, there is always a way as long as one works strategically.
Every single thing you imagine is real, but don't forget to be realistic
Indeed there is nothing like impossible, surely if you can imagine it, you can turn it into a reality. But, It certainly takes a realistic approach. There is a fine line between daydreaming and goals.
In the end, you've to figure out if your ideas are feasible enough or not. You have great ideas in your head, but it doesn't necessary that they are practical enough. Planning and reasoning are what helps to evaluate the ideas. And that's the reason it will always make sense to back the ideas with strong reasoning and math and to not follow anything blindly.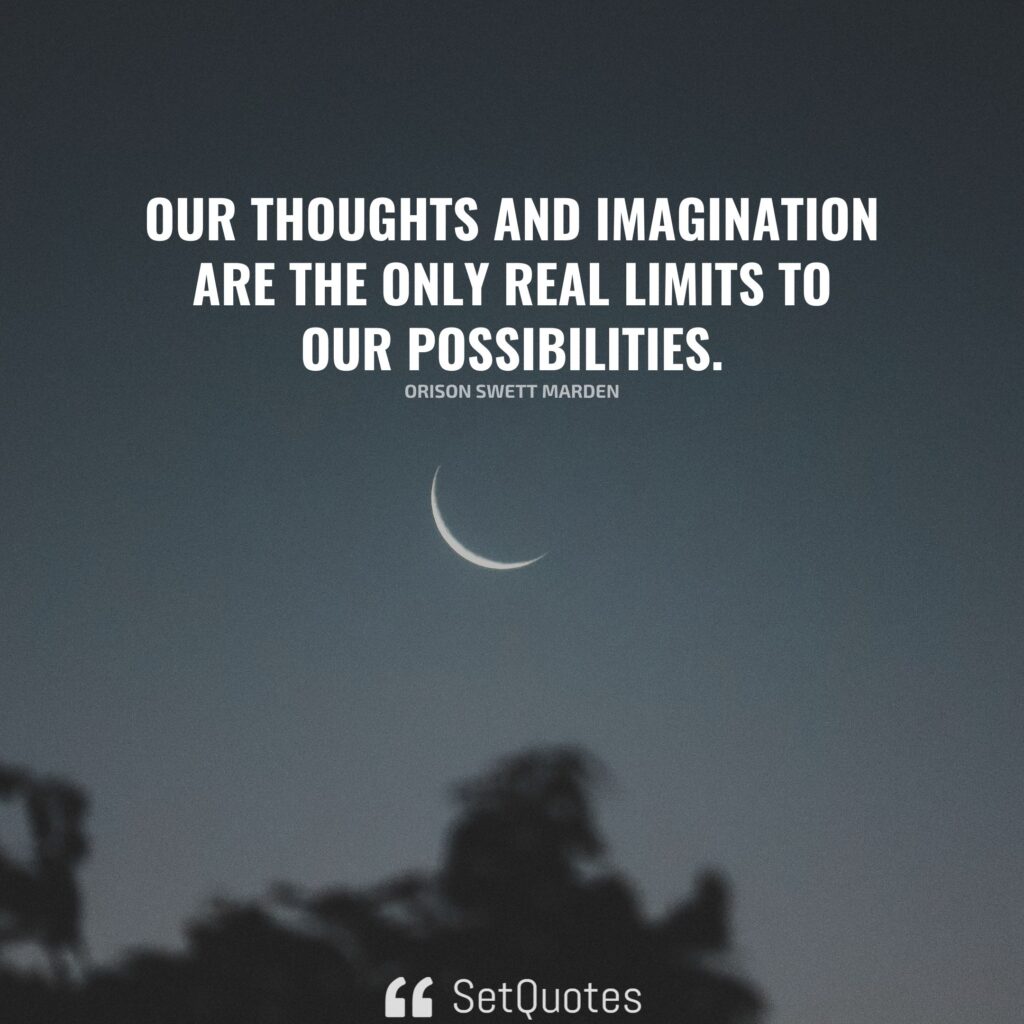 Our thoughts and imagination are the only real limits to our possibilities.
– Orison Swett Marden
We are driven by our brain, this is what controls everything. It's our mind which forms or controls our thoughts or this is what enables us to visualize something.
Control your mind, and It may help to re-form your thoughts and this may lead to a better life. Our thoughts can go auto-pilot, make sure to claim control over there and give it a proper direction to lead it towards positive actions.
Don't get controlled by your own mind, never get managed by it, claim your control over it, and make use of it to get your things done and to turn your ideas into a reality.
There is one great quote by Gloria Steinem, "Without leaps of imagination, or dreaming, we lose the excitement of possibilities. Dreaming, after all, is a form of planning."
Whether it's a piece of art or a business, everything starts with Imagination. Even we Imagine a certain situation first, for example, meeting with someone who holds significance.
Imagination is what programs the mind and ignites the desire which fuels us to put it into action and hard work which can lead towards the first milestone of the great journey.
Set realistic goals, keep re-evaluating, and be consistent.
– Venus Williams