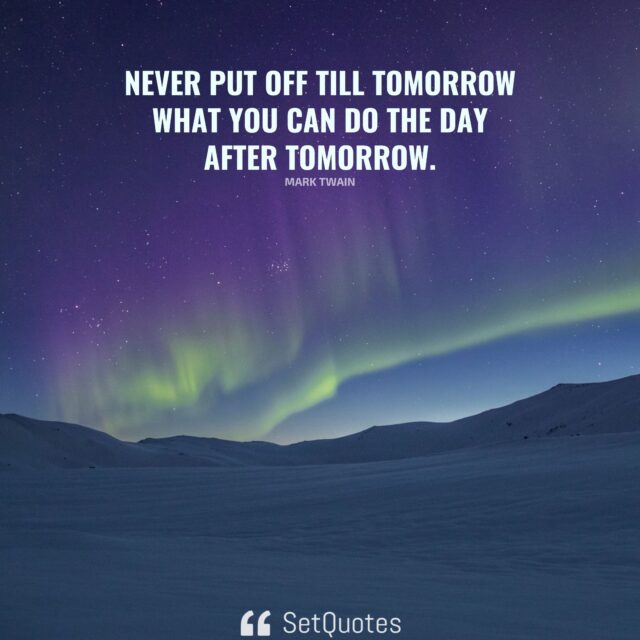 Never put off till tomorrow what you can do the day after tomorrow.
– Mark Twain
Meaning of this quote:
Benjamin Franklin once said: "Never put off till tomorrow what you can do today". Mark Twain went to the further next step by adding "The day after tomorrow" attributed to Benjamin Franklin.
Everyone makes a mistake and most of us felt guilty of procrastination. In fact, we all are a procrastinator at some level, who always try to put the things off. Sometimes we all make a mistake, maybe because of lack of interest or passion and we try to make a delay on a thing which we actually want to do.
Procrastination can be a good:
Sometimes procrastination is not such a bad thing. We all can do anything but not everything. Life is all about the priorities. Procrastination can be a good when we complete the work which matters the most while delaying the other work.
Sometimes we do the things before they needed to be done and then we have to change everything in the different situation and that's the reason why procrastination is not always a bad thing.
Procrastination can make us more creative and it also helps us to take the best decision. We all become procrastinator when we have a lot of things to do. And it isn't always bad because it can help us to decide what we should do first.
And most important, procrastination helps us to understand the value of the time. It helps us to find the things which are against the productivity.
Multitasking isn't a solution when we require a quality. Procrastination can help us to do the things on a better level. Procrastination is the most important for creative people, after all, it gives a quality of time to accomplish the work.
But remember one thing procrastination can be only best for you once select another work over the low-priority work. Do nothing isn't a solution!

It has been my observation that most people get ahead during the time that others waste.

– Henry Ford
Procrastination can be a bad:
We all are the procrastinator at some level and procrastination can be bad for us when we decided to not work at all. Lack of motivation and laziness are the reason behind it.
For example, just thinking about something and not able to start a work on it can be the worse. In a life, we all need to keep moving no matter what. Remember one thing the best way to get it done is to get started.
Sometimes we all waste our valuable time on thinking about the stuff which doesn't matter at all. Sometimes our enthusiasm needs a boost because lack of motivation is the root of procrastination. We should never put off till tomorrow because this habit can change the workflow and it can affect the productivity.
Not scheduling the task can be the reason behind the procrastination. Never do any specific task on unspecified duration instead of that set the limit of duration and focus on that specific task only.
Procrastination can work for you if you make a schedule. Always make a list of the things and decide the priority. Focus on the specific task while working on it. When you work on a larger scale, planning always comes first. Analyze each and every aspect and keep moving forward toward your goal.
Procrastination is the thief of time.
Life is all about turning a negative situation into a positive. We can learn many things from the procrastination.
Procrastination teaches us the importance of the time. Remember one thing time is much more important and more valuable rather than anything.
Sometimes because of lack of interest and motivation, we neglect the complex things which are important and instead of that we keep ourselves busy in the small things which don't even matter.
Time is more valuable than money, because time is irreplaceable.
Never put off till tomorrow:
Always try to make a schedule and never put off till tomorrow. All time we might feel like we have many things to get done, but still, we fail to do that because of lack of motivation and enthusiasm.
Most of us procrastinate sometimes. We decide to do something, but at the end, it never gets done. The most important reason behind this is the overthinking. Sometimes we overthink about something too much and at the end, we do the things which don't much matter over the important things.
Life is too short to do the things which we don't like. Life is all about the priority. We should prioritize the task. I believe we should do what we love in order to get rid of the bad procrastination.
Sometimes all we need in a life is a little break. A little break can enhance our productivity. after all, we have a weekend for a reason. Sometimes it's okay to do the something which we love to do after all life is meant to be happy. It's okay to play the video game or watching a movie because all we need is a little break and fresh start to do something incredible.
Things may come to those who wait, but only the things left by those who hustle.

– Unknown
Karen Lamb, once said: "A Year from Now You May Wish You Had Started Today". It's always better to start rather than regret. The right time to do something is right now. The right time is now to do the things which we love. After all, the beginning is the first step to get the thing done.

We must use time wisely and forever realize that the time is always ripe to do right.
– Nelson Mandela
Never put off till tomorrow because there is nothing like a right time to do the work which you love. Usually, great things are achieved by those who never put off their work.
Common reasons behind the procrastination:
Lack of motivation and skills can be the reason behind the procrastination. Most of the people give up while developing the new skills. When we develop new skills we should not afraid of failure and we should not give up. Patience is the key to the success. Everything needs some time to get it done.
Disorganization is also one of the main reasons behind the procrastination. When things are not organized, it's too easy to put it off. Even not having a deadline is the worst. We should break the large task into smaller along with the deadline.
Multitasking can also be the reason behind it. When things are not organized, it becomes so easy to lose the focus on a specific job.
Not enjoying the work is also a major reason. When you don't like something it takes nothing to give up.
Never put off till tomorrow because once you do that it will never get done.
You may delay, but time will not.