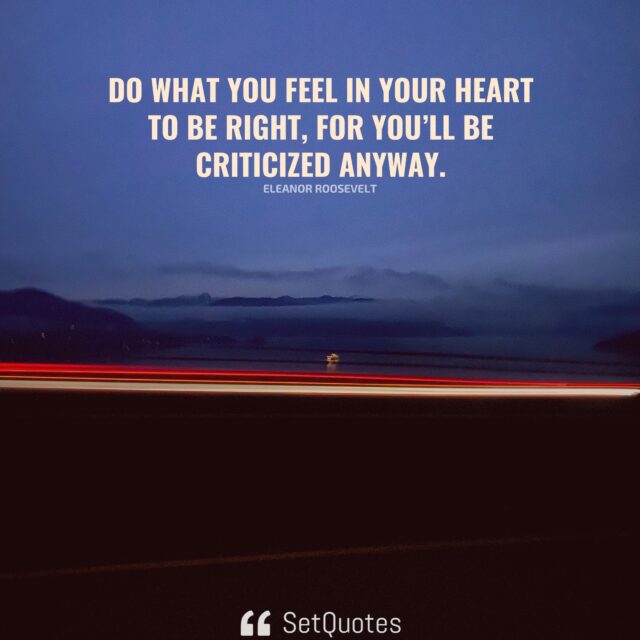 Do what you feel in your heart to be right, for you'll be criticized anyway.
– Eleanor Roosevelt
Meaning of this quote:
Steve Jobs once said: "Have the courage to follow your heart and intuition. They somehow already know what you truly want to become. Everything else is secondary."
Do what you feel right, follow your heart. Only you can feel what you truly want and what best you can do for yourself, no one can feel it as same as you will ever do for yourself.
No matter what you will ever do, you will be criticized. And there is nothing wrong with constructive criticism either. Embrace it, and if it makes sense to you, implement it.
Life is the journey, success and failure aren't the destinations, they are part of it. Both have their own significance. Follow your heart, do what you feel is right, plan things out, and don't forget to be realistic. Whenever things don't go as planned, reflect on your actions, learn from your mistakes, and start over. Nothing teaches us better than our own failures.
Follow your passion but with a realistic approach
It's really easy to tell someone to chase their dreams and follow their passion, isn't it?
To make it a reality, shouldn't it take a realistic approach?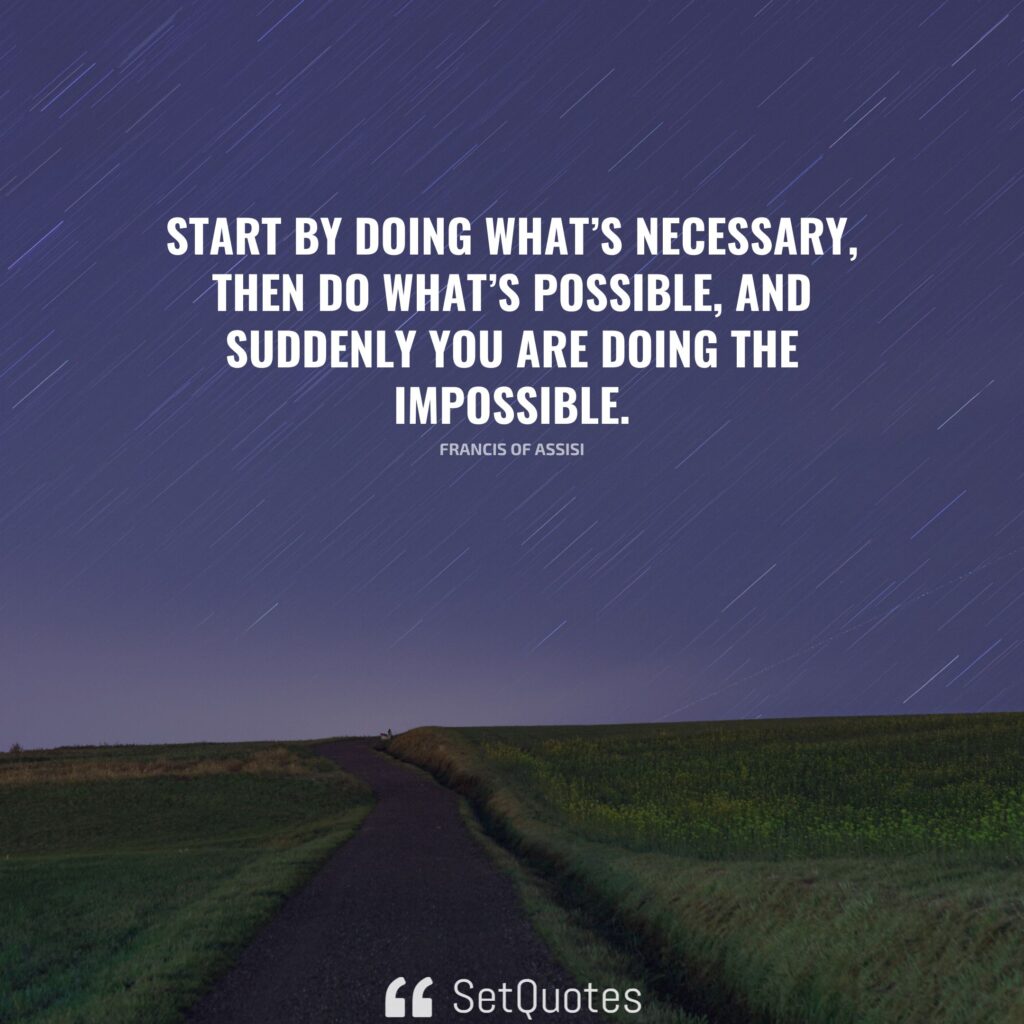 Start by doing what's necessary; then do what's possible; and suddenly you are doing the impossible.
– Francis of Assisi
Indeed there is nothing wrong with aiming for the moon and having the vision that high, but make sure you keep yourself and your goal on the ground. When you set unrealistic goals, It's really easy to lose track.
Don't begin with chasing the impossible, the executable plan should have a realistic and practical approach. First start with what can you truly achieve at the specified timeline and then gradually level up.
Motivation might not last long enough, you might not feel the same way as you do right now, a plan and a proper roadmap are all you need to keep moving forward regardless of how motivated you are.
Visualize something which indeed looks unrealistic at this moment, but make sure to tie it with realistic goals In order to keep your objectives clear. And these small steps might lead to something which seemed unrealistic at one point in time.
Do what you believe in the depth of your heart to be right
Be true to yourself, If you believe that something is right for you from bottom of your heart then there is no reason to not follow it. In the end, only you know yourself better than anyone else, only you know your true strengths and weaknesses.
But, don't forget to find the courage as well. It takes courage to follow the heart and passion, especially when you're trying something new or different than the others. That's why planning and proper idea validation are required in order to build confidence and to get foundationally strong.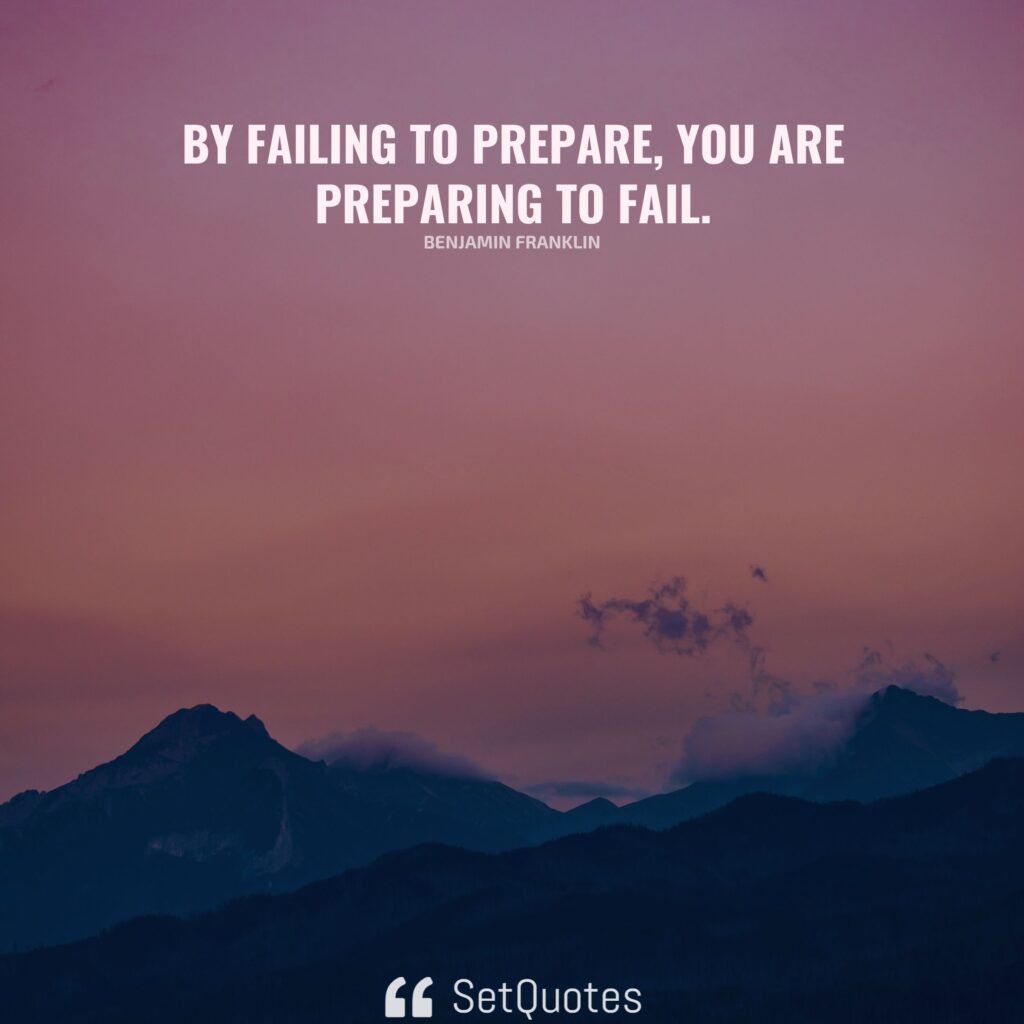 By failing to prepare, you are preparing to fail.
– Benjamin Franklin
You certainly have a great vision in mind which is closer to your heart, but, In order to make it a reality preparation is what it takes. With a lack of planning and preparation, everything will merely look like a wish.
There is one great quote by Oprah Winfrey, "Passion is energy. Feel the power that comes from focusing on what excites you."
Passion is the power, doing something which is closer to heart and succeeding at it is what gives the ultimate satisfaction and fulfillment.
Nothing can stop those who are driven by courage and strong desire, and when one is backed by strong planning and a proper roadmap to turn the vision into a reality.
Do not try to do everything at once. Nothing can be done without hard work and perseverance. The ability to adapt and continuous efforts are what make a difference.
I have no special talents. I am only passionately curious.
– Albert Einstein