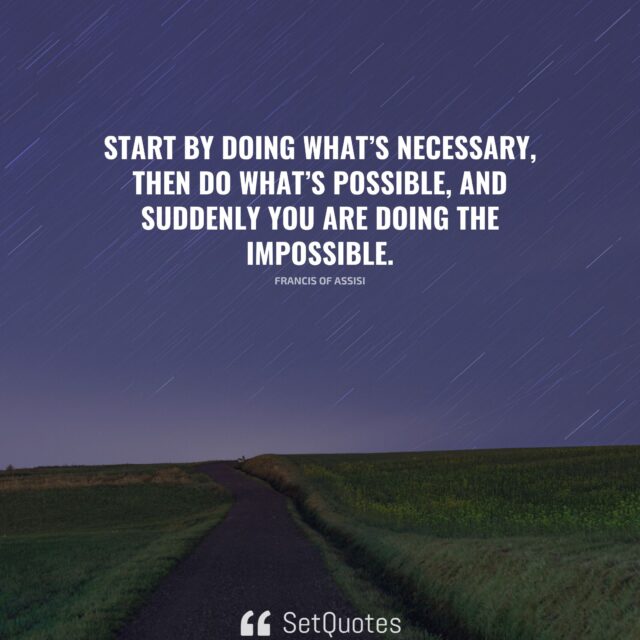 Start by doing what's necessary; then do what's possible; and suddenly you are doing the impossible.
– Francis of Assisi
Meaning of this quote:
Taking the first step is always the hardest, It takes courage. But, once we Initiate it, everything falls into its place with ease.
Build momentum, because that's what helps to keep everything flowing in. Initiate it by taking the first step, start by doing what's necessary or important, You can start with a relatively easy task and once you build momentum, even the most challenging tasks will not seem as difficult.
Don't give up or don't wait for anything and keep up doing your best because that's what matters the most.
Perseverance is the key, When we constantly strive for the best, even the impossible becomes possible.
Self-determination is important
Motivation comes from determination; without it, it's difficult to be motivated enough to accomplish tasks. It's a lack of determination that makes things so difficult.
Tommy Lasorda once said: "The difference between the impossible and the possible lies in a man's determination".
Believe in yourself, trust your inner strength and capabilities. Keep in mind that there is nothing like impossible. Goals can be accomplished as long as you're committed enough to put into honest efforts.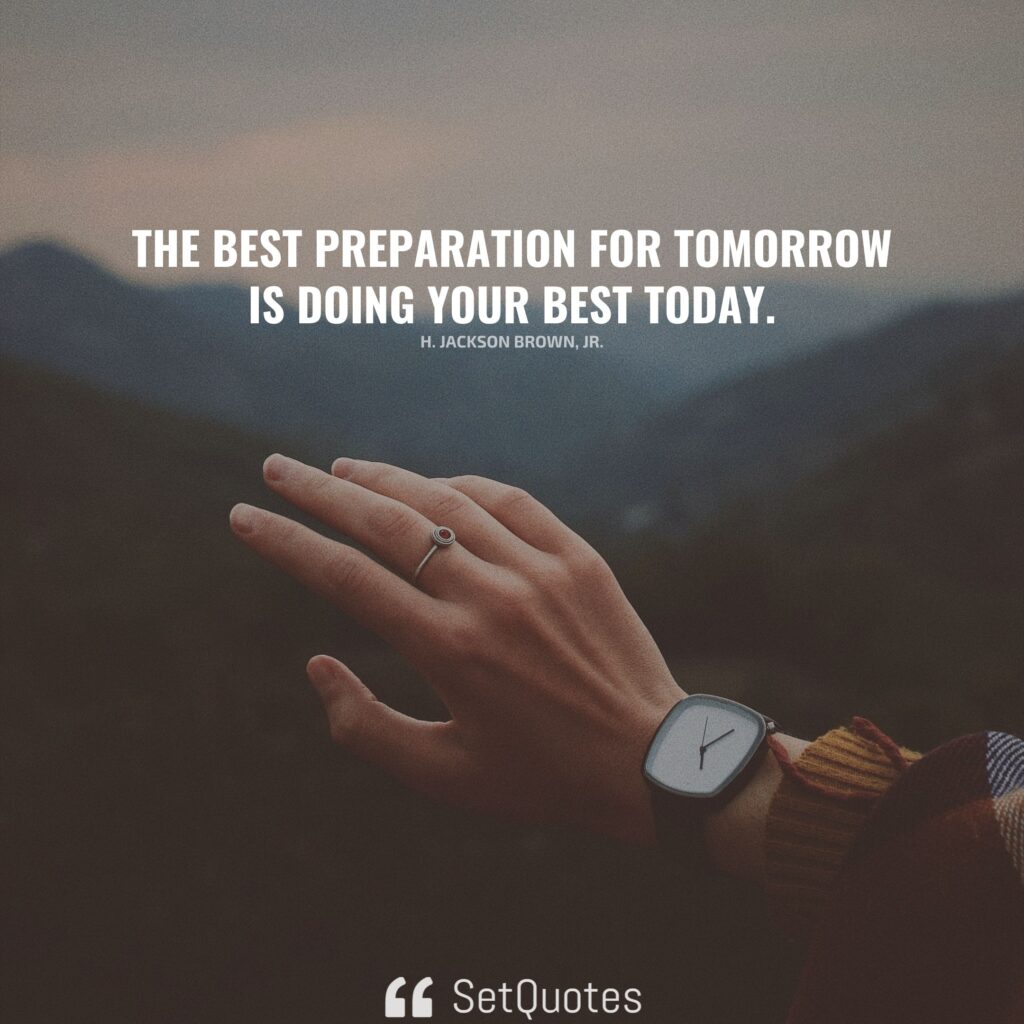 The best preparation for tomorrow is doing your best today.
– H. Jackson Brown, Jr.
Remember that the present moment is all we have, other than that is just an illusion. Don't wait for the right time, because that doesn't exist. All we have is a present moment to initiate that first step.
Self-determination is the key, we found the courage to take even the hardest steps when we are committed enough to take a chance. And this is what helps to keep up trying even after a series of failures.
Nothing can stop you to achieve your goals as long as you have the courage to start again after the setbacks. The most important thing is to learn from your mistakes and improve yourself.
start by doing what's necessary, build momentum, and you may end up with new opportunities.
There is one famous quote by Milton Berle, "If opportunity doesn't knock, build a door".
When we work hard, we're rewarded with plenty of new opportunities.
Life-long learning is the best way to attract new possibilities. Aim to keep yourself updated with new and relevant skills, learn from your past mistakes and keep improving yourself.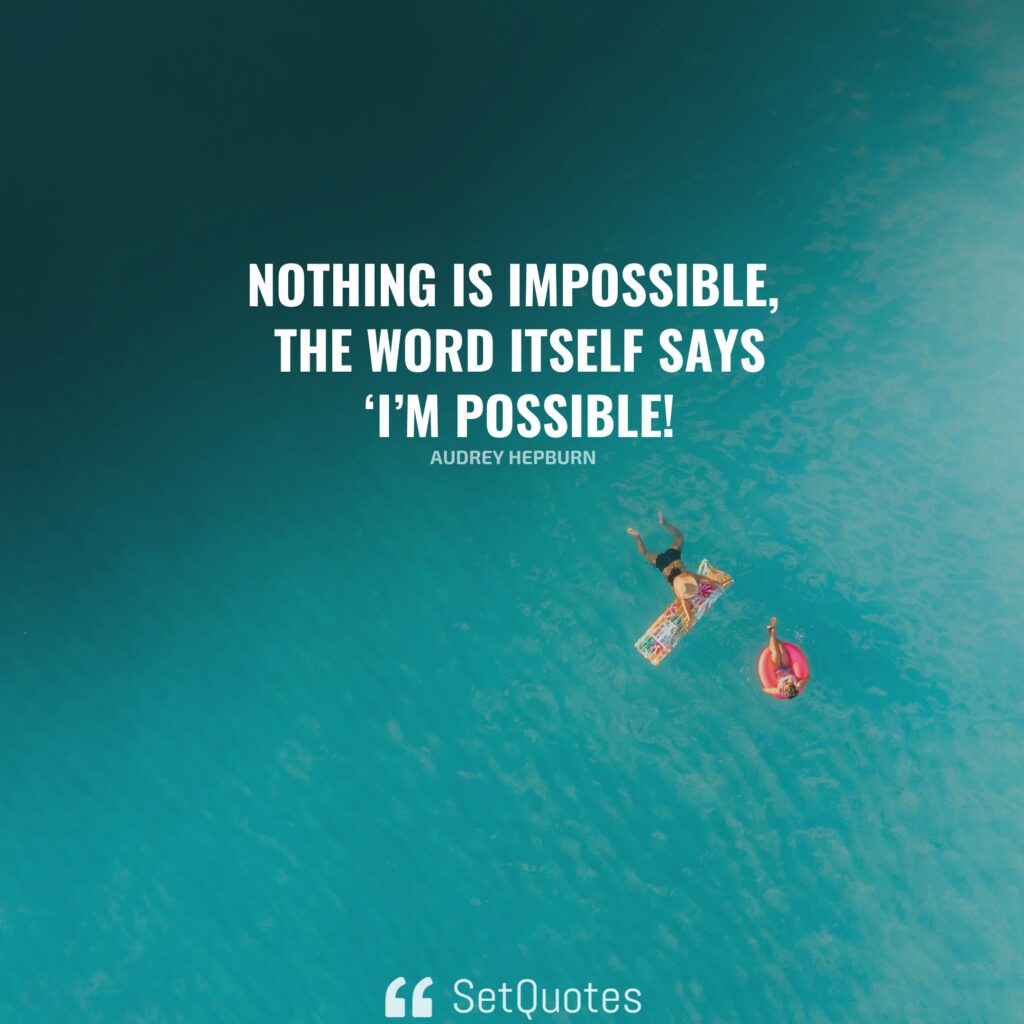 Nothing is impossible, the word itself says 'I'm possible!
– Audrey Hepburn
With hope, confidence, hard work, and perseverance, anything is possible. Hard work and perseverance can effectively beat your competition.
All you need to do is take the first step, plan the next move, and keep executing until your dreams become a reality. When you're driven by your strong desire, nothing can stop you from achieving your dreams.
Wonder happens when we are determined and self-motivated enough to explore the unexplored path. Doing impossible and proving our own self wrong is always fun. Challenge your limits, raise and chase them.
It should be our ultimate, ongoing goal to keep improving. You are your own competition, strive to be better than yesterday.
Without faith, nothing is possible. With it, nothing is impossible.
– Mary McLeod Bethune