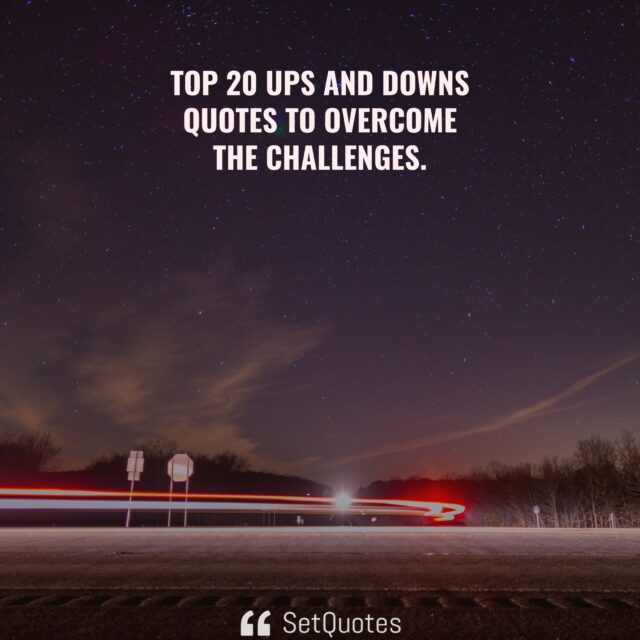 Aren't challenges part of life? There are times when things don't work out as planned or expected. Life isn't linear. Ups and downs are a part of life, and that's what makes it worthwhile.
Isn't it obvious that the challenges are subjective? You might find something challenging but someone else may not, and vice versa. It is impossible to avoid challenges no matter how hard one tries. Sometimes it is an absence of challenges that leads to real problems.
Challenges become less challenging when you keep challenging them. As a result, one becomes more resilient in handling difficulties.
A person's reaction and approach to challenges determine everything, including their outcomes. A challenge can either challenge you or you can challenge the challenge and go beyond the boundaries. Ultimately, growth happens when you put yourself up for the challenge.
Presenting ups and downs quotes by famous authors to illustrate that, challenges are a part of our life, nothing goes linearly, It's often ups & downs and twists & turns which make the journey worthwhile and memorable.
A collection of ups and downs quotes to help you overcome difficulties
There are ups and downs, but whatever happens, you have to trust and believe in yourself. – Luka Modric
I've always loved life, irrespective of all the ups and downs that have filled my journey. – Lata Mangeshkar
Ups and downs in life are very important to keep us going, because a straight line even in an ECG means we are not alive – Ratan Tata
It's not that I'm so smart, it's just that I stay with problems longer. – Albert Einstein
Challenges are what make life interesting and overcoming them is what makes life meaningful. – Joshua J. Marine
The game has its ups and downs, but you can never lose focus of your individual goals and you can't let yourself be beat because of lack of effort. – Michael Jordan
The greater the obstacle, the more glory in overcoming it. – Molière
I knew as long as I stayed focused on my priorities, I would be ready for life's ups and downs. – Philip Rivers
Everybody has their ups and downs, and that's what makes you tougher. – Isaac Hanson
Life Is Tough… But So Are You. – Heather Stillufsen
Embrace challenges as opportunities to test your capabilities
Once you find someone to share your ups and downs, downs are almost as good as ups. – Robert Breault
Life is like the ocean, it goes up and down. – Vanessa Paradis
Life's challenges are not supposed to paralyze you, they're supposed to help you discover who you are. – Bernice Johnson Reagon
The secret of life is to fall seven times and to get up eight times. – Paulo Coelho
You have to go through the ups and downs to really be able to root yourself and focus on what's important. – Omarion
Transformation is a process, and as life happens there are tons of ups and downs. It's a journey of discovery – there are moments on mountaintops and moments in deep valleys of despair. – Rick Warren
Surround yourself with good people who encourage and love you. There are always ups and downs, no matter how successful you are. – Liana Liberato
The rise or fall, success or failure of your dreams is largely dependent on the association you build yourself around. – Israelmore Ayivor
I learned that life is filled with ups and downs and it's just about how you react to them. – La La Anthony
Life is not linear; you have ups and downs. It's how you deal with the troughs that defines you. – Michael Lee-Chin
We hope these quotes about ups and downs will encourage you to overcome your toughest challenges. Share your favorite quote in the comments below.