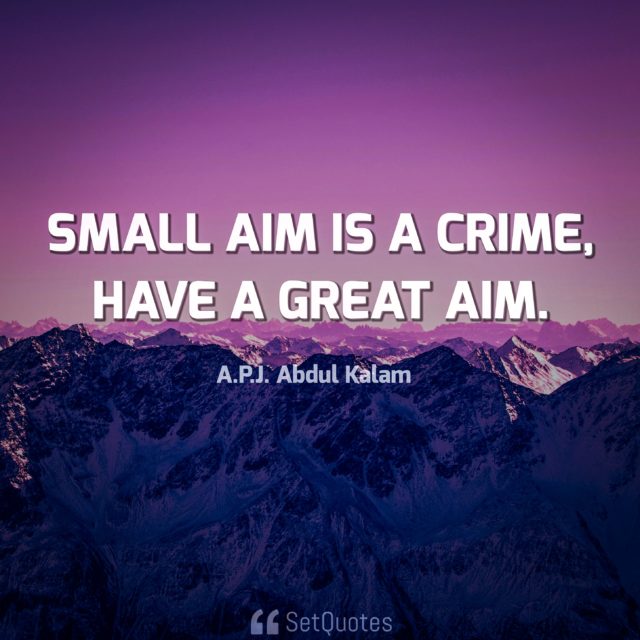 Small aim is a crime, have a great aim.
– A.P.J Abdul Kalam
Meaning of this quotes:
A.P.J Abdul Kalam says "Small aim is a crime, have a great aim." As long as we're dreaming about something we should dream bigger and better. Orison Swett Marden says "All men who have achieved great things have been great dreamers."
The future belongs to those who aim higher. There is one common thing in all successful people and that is ambition. Just remember one thing, it's all start with a first step and that is a dream. First of all, we all should have an aim. We all should have a great aim. Because success belongs to those who aim higher and follow their dreams.
There is nothing like the overnight success or great success can't be a result of a few hours of hustle. They are successful because they have the courage to follow their dream. There is only one way to live a happy and meaningful life and that is starting dreaming, be ambitious about it, set the goals and live like you're on the mission.
Great dreams of great dreamers are always transcended.
– APJ Abdul Kalam
Great dreamers are the one who thinks out of the box. Their thinking can go beyond the limits. But remember one thing great achievers are not just dreamers, they are doers too. A dream without any action is just a wish. You can't be successful and happy by just dreaming about something you have to take some actions in-order to make it a reality.
A.P.J. Abdul Kalam says: "Man needs his difficulties because they are necessary to enjoy success." There is no success without actions towards your goals and dreams. You've to dream out of the box, you need to take the actions and you've to go-through the uncertain difficulties in-order to enjoy the success.
Aim for the moon. If you miss, you may hit a star.
– W. Clement Stone