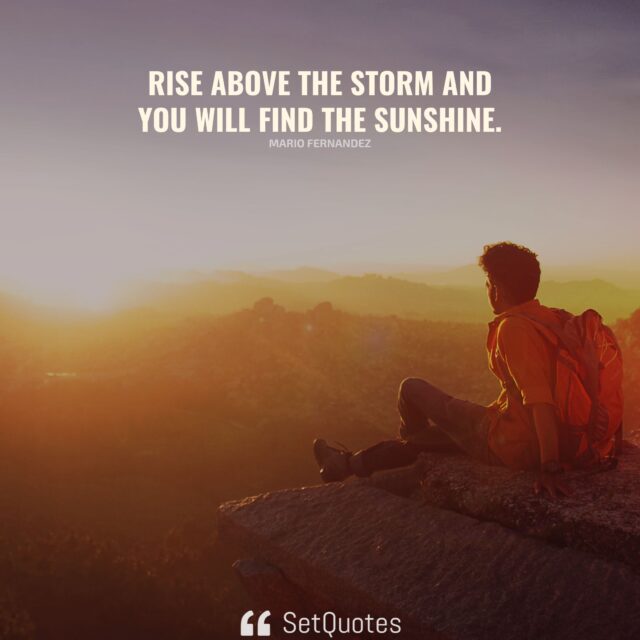 Rise above the storm and you will find the sunshine.
– Mario Fernandez
Meaning of this quote:
The best way to overcome challenging circumstances is to face them head-on and keep trying. The worst way is to run away and give up.
Don't run away from the storm, try your best to rise above, and sooner or later there will be sunshine. Wisdom is knowing that challenges are certain and much expected in all phases of life, so having the ability to overcome them is essential.
When the journey is tough, the destination will be more beautiful. Don't give up because it's hard, keep going because the harder the path is, the less crowded the destination will be.
Remember that great achievers never give up, no matter what obstacles they face. They believe that taking calculated steps is the key. They know when to give up and when to keep trying.
Don't run from the challenges, embrace them
The best way to learn to cope with challenges is to become comfortable with uncomfortable situations.
Aren't challenges very subjective, since anything we do for the very first time is a challenge?
Trying to do the thing and keep learning it despite mistakes or failure is what makes us good at it and that's the best way to master those things. Remember, running away from difficulties fixes nothing and instead it makes the situation worse.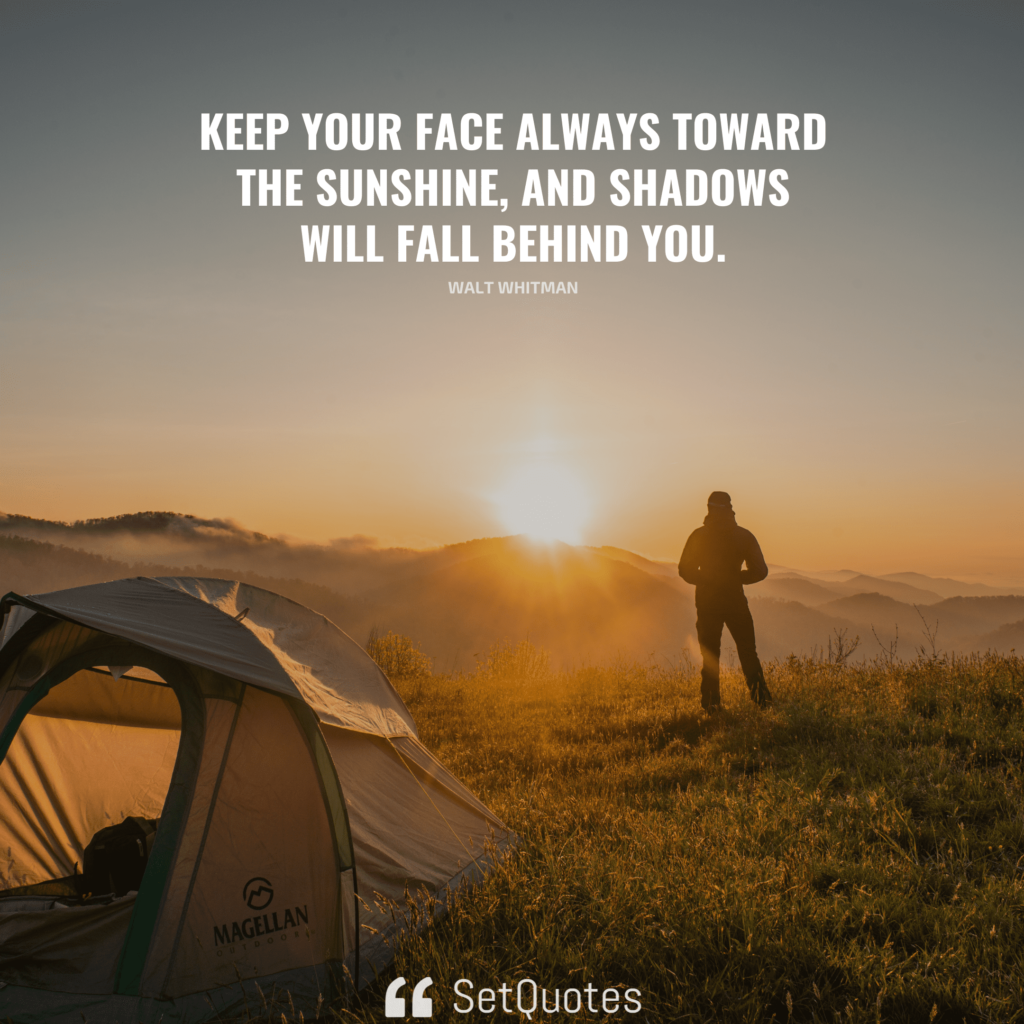 Keep your face always toward the sunshine – and shadows will fall behind you.
– Walt Whitman
Keep your eyes on the hope of light, and eventually, shadows will fade and you will find the strength to overcome obstacles.
Whenever something seems impossible, there is always a way if one does not give up, keeps trying, and strives to improve after every mistake. Try to be better than what you were yesterday. It doesn't matter how fast or slow you go as long as you are moving forward in the right direction.
Believe in yourself, don't let your negative self-talk bring you down, but being honest with yourself is imperative. Telling lies to yourself is the worst thing one can do.
Try to rise above the storm, and you'll find the sunshine
There is one great quote by A.P.J. Abdul Kalam: "All birds find shelter during a rain. But eagle avoids rain by flying above the clouds."
There will be ups and downs in life, it's like a roller coaster, find the courage to enjoy the ride. Mindset is everything, how you see the world shapes everything.
The most effective way to deal with problems is to find the best solution. View the problem as a challenge, and let it strengthen you and make you better.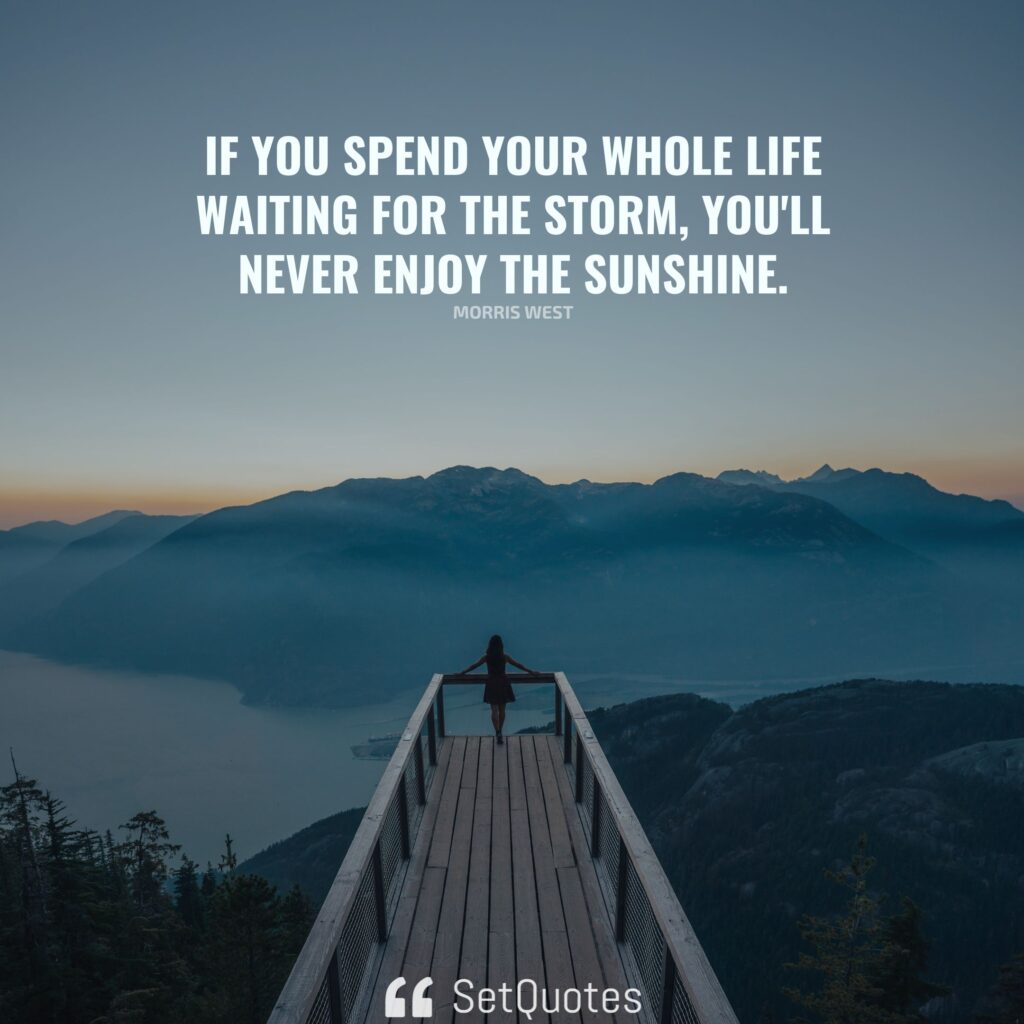 If you spend your whole life waiting for the storm, you'll never enjoy the sunshine.
– Morris West
Don't just focus on the negative, embrace the bright side as well. Don't overthink too much, don't let it take away your present moment. Develop the right mindset.
Bernice Johnson Reagon, once said: "Life's challenges are not supposed to paralyze you, they're supposed to help you discover who you are."
If things don't go according to plan or when you feel uneasy, keep looking for hope and believe there is always a source of light no matter how dark the situation is.
Rise above the storm and find the sunshine, in other words, let the challenges and difficulties help you to rise above where you are right now, let them uplift you, and allow you to see the Light in the darkness of challenging times.
No matter how strong the storm, it will never be able to take away the sun. It may cover the sun, but it can't take it away from you. The sun never stops shining. And thus, no matter how difficult the situation is, there is always a way and there is always a constant hope which in the end will let you shine.
Keep your face to the sun and you will never see the shadows.
– Helen Keller