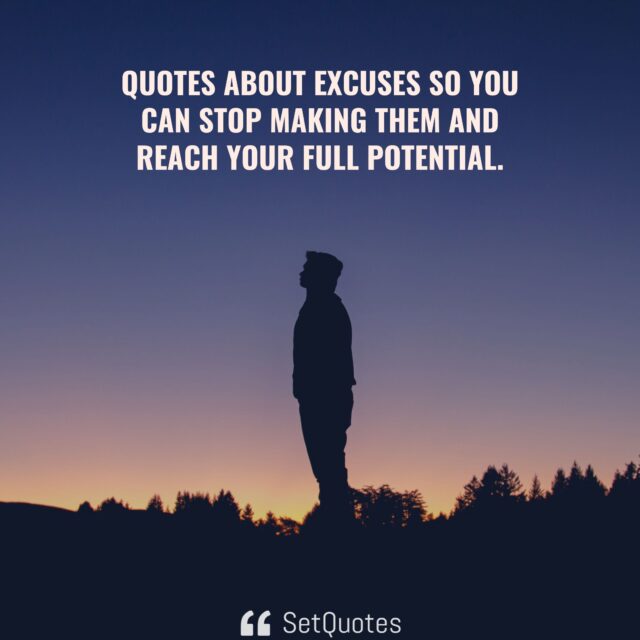 When it comes to failure, expect, accept, but never make excuses. Because whenever we make an excuse, we are simply ignoring our failure, and that's how we can continue to fail.
By ignoring or not acknowledging a failure, we impair our ability to improve. A real failure is one we don't learn from.
Don't be afraid of failure, but be afraid of not learning from it. Failure is what happens when we refuse to accept the outcome and make excuses.
Own your actions and take responsibility for them. Because it's not optional. Realize that in order to improve something, you first have to acknowledge that there is room for improvement.
The following motivational quotes will inspire you to give up making excuses so that you can lead a successful life.
Excuse-busting quotes to stop making excuses
An excuse is a way of promising ourselves that we will have the same issue again. – Henry Cloud
I attribute my success to this – I never gave or took any excuse. – Florence Nightingale
To rush into explanations is always a sign of weakness. – Agatha Christie
Success requires no explanations. Failure permits no alibis. – Napoleon Hill
A man can fail many times, but he isn't a failure until he begins to blame somebody else. – John Burroughs
Excuses change nothing, but make everyone feel better. – Mason Cooley
You can have excuses or you can have success; you can't have both. – Jen Sincero
At the end of the day, let there be no excuses, no explanations, no regrets.- Steve Maraboli
Excuses are lies wrapped up in reasons. – Howard Wright
An excuse is nothing more than a self-imposed roadblock. – C.C. Chapman
Failure serves as a stepping stone as long as you don't make excuses
You will find that the more successful the individual, the less inclined he is to make excuses. – David Joseph Schwartz
Leadership is about taking responsibility, not making excuses. – Mitt Romney
Hold yourself responsible for a higher standard than anyone else expects of you. Never excuse yourself. – Henry Ward Beecher
Success is not as easy as winners make it look nor as hard as losers make it sound. – Orrin Woodward
He that is good for making excuses is seldom good for anything else. – Benjamin Franklin
Excuses destroy success every time. – Jon Taffer
If you make no excuses, there's nothing holding you back. – Travis Browne
If you look for an excuse, you'll always find one. – Anthony Liccione
We hope you find these motivational quotes on excuses inspiring and will help you to give up on an excuse to take ownership of your life to the fullest. Share your favorite quote in the comments below.