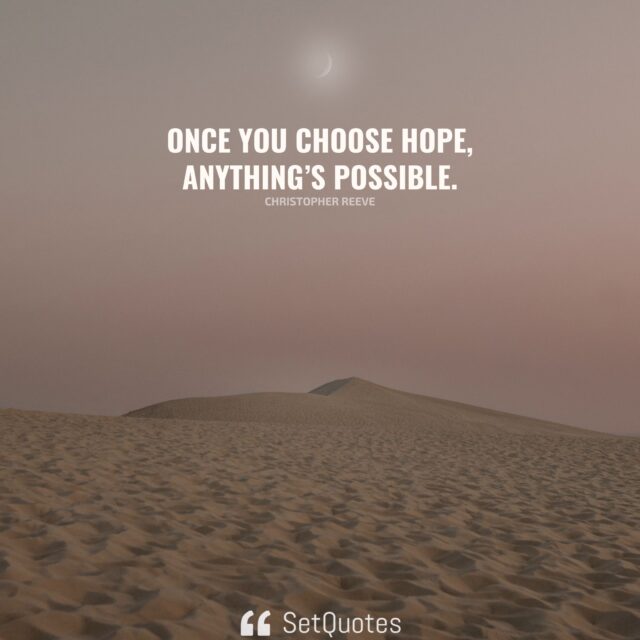 Once you choose hope, anything's possible.
– Christopher Reeve
Meaning of this quote:
Helen Keller, once said: "Optimism is the faith that leads to achievement. Nothing can be done without hope and confidence."
Do not lose hope, believe in yourself, your abilities, and your inner strength. To be optimistic means to know that it is not over yet and there are more opportunities ahead as long as you don't give up and aim to achieve your goals.
There are two options: to hope for the best or to give up. However, is giving up really going to widen the opportunities?
Being realistic is the key. Wish for the best but calculate each and every factor as well. Don't expect a miracle without working for it. Miracles happen when we work for them. It might test your patience level to believe that something was meant for you and that you can make it happen, but sooner or later, you will see positive results if you believe it is. Do not give up and keep doing what you are doing, and keep hoping for the best.
Giving up fixes nothing
Don't give up because doing so will not make your life better, and it won't help you to feel better either.
Get comfortable with the challenge, let it push your boundaries. Overcoming difficulties is what makes us better, and there is a great deal of joy in overcoming them. The more you go through them, the more you are able to solve them.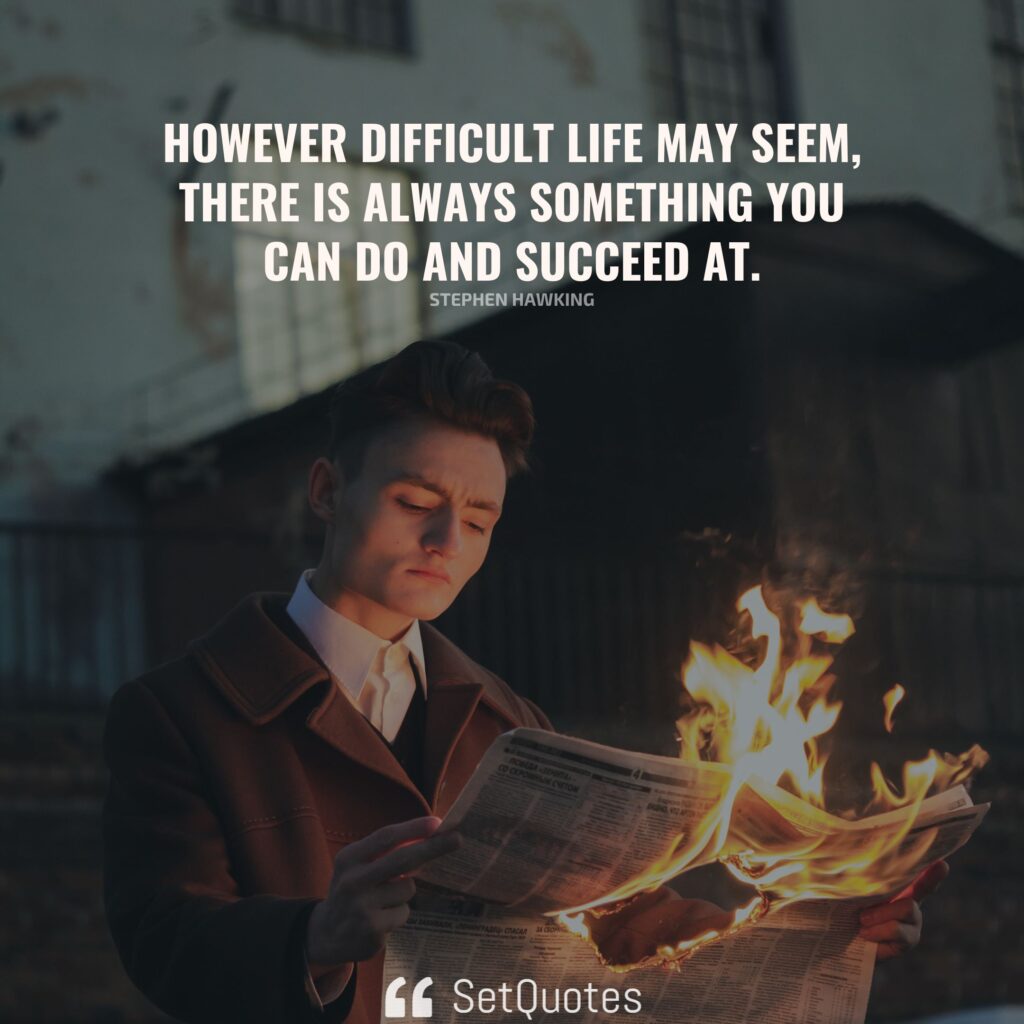 However difficult life may seem, there is always something you can do and succeed at.
– Stephen Hawking
Everyone is unique and special, we each have our own strengths and weaknesses, so identify them and work on them. Do what makes you great and fulfilled, and let your works add value to the lives of others.
Despite how challenging it can be, there is always a way. The key is to never give up and to find out another solution that truly works. And so, when you choose hope, naturally you start looking for ways to overcome challenges.
We shouldn't stress over the little things in life; we should acknowledge them as part of life, and realize that we cannot avoid them. Sometimes accepting things is more important than changing them, because we can't control everything.
Do not let fear or negative self-talk restrict your vision. If a failure occurs, then let it happen since attempting something is far more important than not attempting anything at all. Accept failure, learn from it, for in doing so you will open a new door for yourself and may even change the direction of your life. This does not mean you should always fail at something; it means you should learn from them in order to avoid making the same mistakes again.
Once you choose hope, you automatically gain the courage to make anything possible
Faith and optimism are very powerful, they bring a positive influence and help to open up or create new pathways. You have to believe in yourself and know your inner strengths since nothing great has ever been achieved when you have a negative attitude.
It is important to find the courage to support yourself regardless of what happens in your life. If it is the darkness, don't close your eyes, instead, keep searching for the source of light. Getting out of a negative situation is as simple as finding the solution and working on it. Running away from it won't help you in the long run.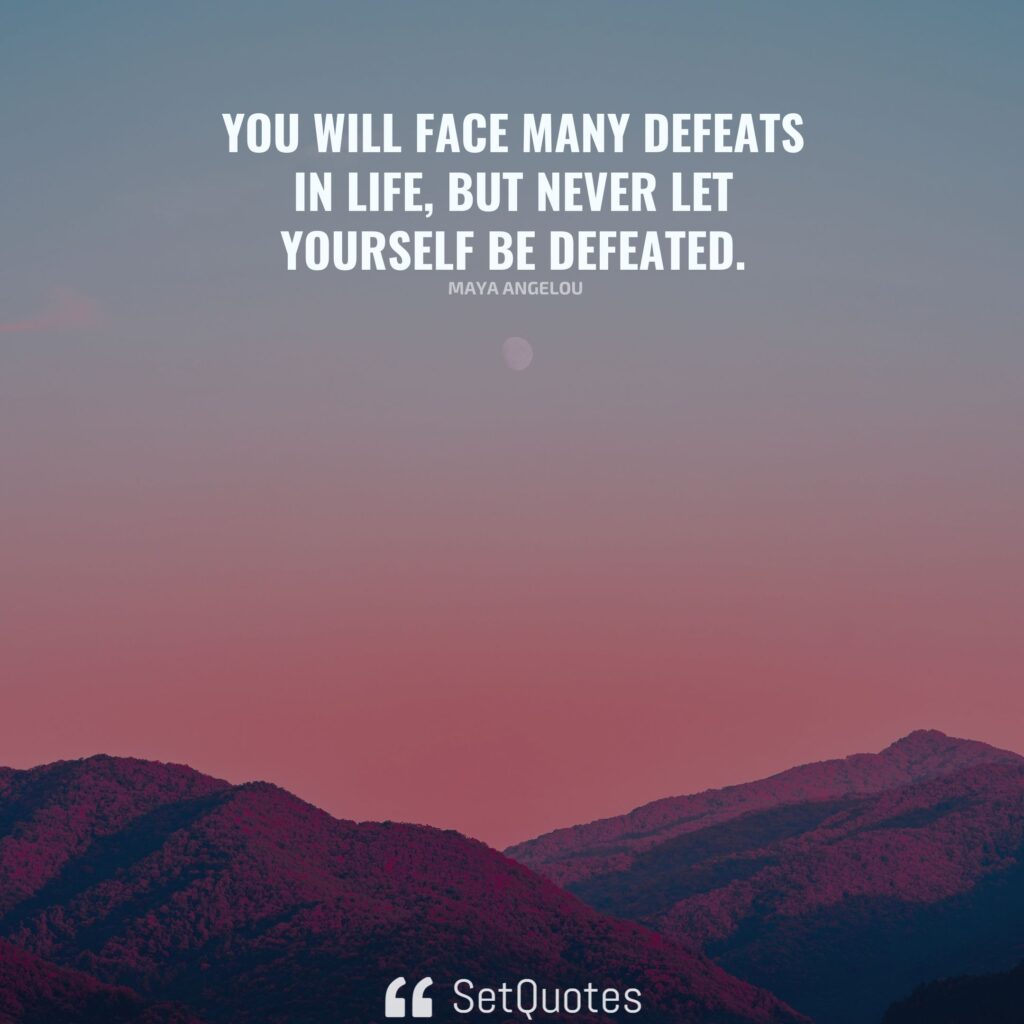 You will face many defeats in life, but never let yourself be defeated.
– Maya Angelou
It's inevitable that we will fail when we try something new. Accept the failure, improve your skills, and try again. Don't let failure derail your plans. Keep striving for success, no matter how uncertain things may seem at the time.
There is one great quote by Marilyn Monroe: "Keep smiling, because life is a beautiful thing and there's so much to smile about."
I believe that life is a beautiful gift, with many periods of uncertainty with ups and downs. That's what it is, it is unpredictable, but embrace it and keep looking for a ray of hope.
Never let your overthinking turn simple things into complicated ones. Control your mind and you'll control your thoughts. Don't think about negative outcomes without finding a way to overcome them. In tough situations, train your mind to focus on finding a way around.
Believe in yourself and don't lose hope – almost anyone can overcome any kind of obstacle if they work hard enough.
Life is really simple, but we insist on making it complicated.
– Confucius