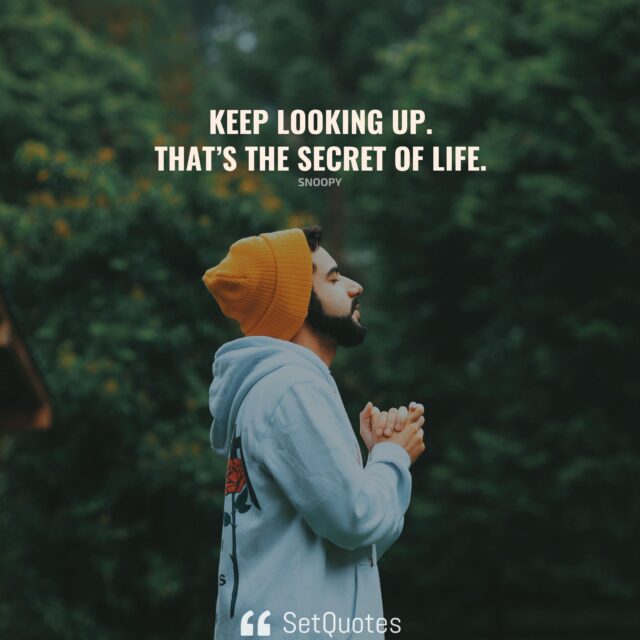 Keep looking up that's the secret of life.
– Snoopy
Life itself is a blessing, It's a beautiful gift with lots of surprises and uncertainty. Be grateful for everything, don't let small issues take away your beautiful present moment. Embrace your beautiful life, feel each and every second of it. Take on the next challenge, and watch it bring you a new opportunity and excitement. Overcoming difficulties is what makes life exciting and thrilling.
Despite how difficult things may seem, don't give up, never lose hope, and keep searching for the source of light. Everything will be okay in the end, just hope, and do what makes you happy and fulfilled.
Marcus Aurelius, once said: "Very little is needed to make a happy life; it is all within yourself, in your way of thinking."
Sometimes we ended up making even simple things into complex ones thanks to our overthinking. Don't stress up the small issues, be solution-oriented. Anyone can fix almost any kind of issue, why stress about it when you can simply work towards it and get out of that situation.
Life is the most beautiful thing
Don't think too much, don't take your life for granted. Life is a journey and obstacles are very much expected, overcome them and keep looking forward. Be grateful for everything, don't forget the fact that life is a most beautiful and precious gift.
If something doesn't turn out the way you thought it would, then keep looking up, there will still be endless opportunities coming your way. If something doesn't work, try again instead of giving up since running away from it doesn't help.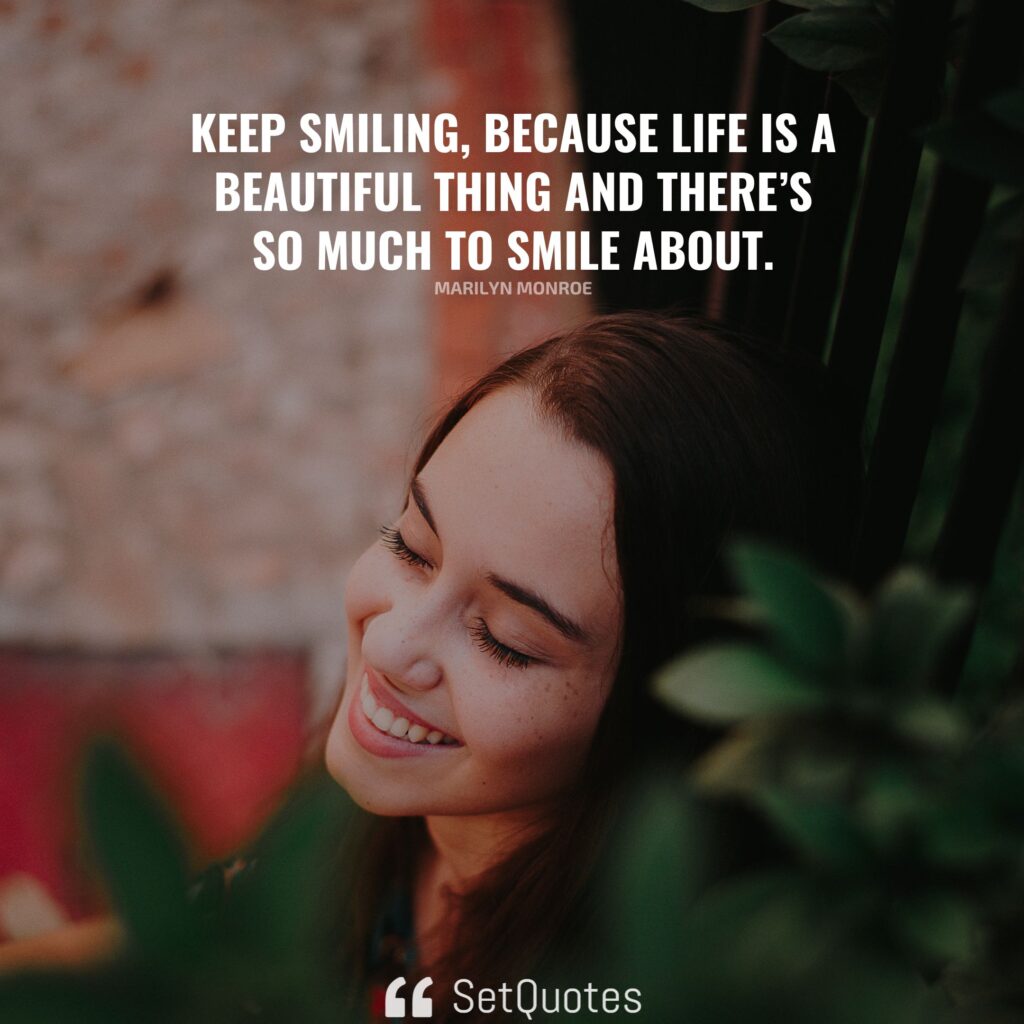 Keep smiling, because life is a beautiful thing and there's so much to smile about.
– Marilyn Monroe
It is a certain fact that obstacles will come your way in life. Overcoming them is what makes life more beautiful and fulfilling. We all struggle at some point in our lives, the scale of struggle may vary, but the struggle is real.
Having struggles makes us stronger and more determined. Never lose your smile and keep looking up, never forget that this is just a phase of life. Always look for new opportunities and do your best to keep attracting them.
Never stop believing in yourself, trust your abilities and inner strength. Don't forget the fact that only you have the power to make changes in your life. And change happens when you change your perspective towards life. Train your brain and It will help you to control your thoughts. It's your thoughts and Imagination which are the first starting point towards the big changes. Every great thing was first someone's Imagination before it happed in reality.
Your vision will keep you moving forward. With a positive attitude, hard work, and perseverance, anyone can achieve anything. Try your best and never give up. And you shouldn't be afraid to try again if something doesn't work out the first time.
keep looking up and hope for the best because that's the secret of life
There is one famous quote by Steve Jobs: "Sometimes life hits you in the head with a brick. Don't lose faith."
Do what you can and keep hoping for the best, but remember that nothing great ever happened by itself. It was always the result of strong determination, hard work, and persistence.
Try to become comfortable with uncomfortable situations, let them test your patience, and they will help you achieve your full potential.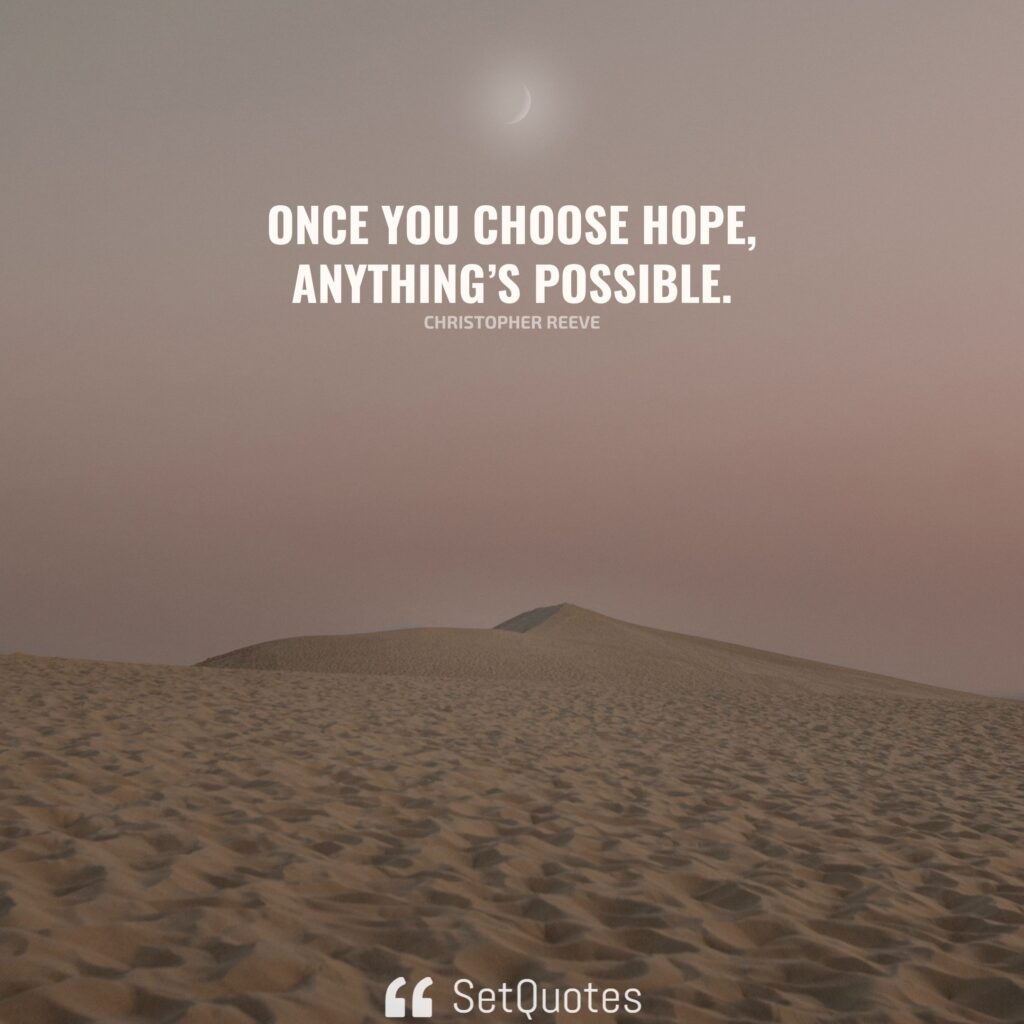 Once you choose hope, anything's possible.
– Christopher Reeve
Instead of negative self-talk, choose hope, because hope brightens up the way which leads towards the solution. Remember, negative perspective changes nothing and instead makes everything worst. Hope gives courage and patience to keep looking up.
There is one great quote by Will Smith: "The first step is you have to say that you can". No matter if others believe in you or not, you must believe in yourself. On the other hand, learn to take constructive criticism in the most positive way possible. Listen to everyone and learn from them and finally decide and choose what you consider to be your best option.
Keep looking up. Don't lose hope and be confident, because that's the secret of life. Utilize each and every second of your present moment in a way that gets you closer to your dreams and happiness.
To attract happiness, smile often and embrace each moment of your life. You can't attract happiness by striving for it. Learn to value your life and it will add that value back.
Sometimes patience is all we need, Your great work will eventually lead you to positive results, so maintain your efforts, learn to attract new opportunities, and you may get the results you were looking for.
Nobody can predict the future; the idea is to have a firm grasp of the present.
– Peter F. Drucker