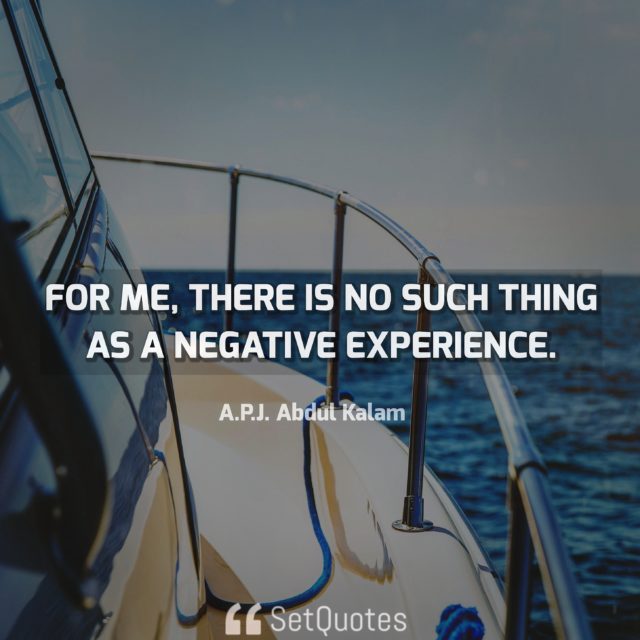 For me, there is no such thing as a negative experience.
– A.P.J. Abdul Kalam
Meaning of this quote: 
There is nothing like a negative experience, it's all about how we think about that. Sometimes we go through hard or tough time, which is nothing less than negative experiences. But how we deal with that experience defines our future. Opportunities do not always same for all and sometimes we fail more often, but that doesn't mean that we should give up just because it's a negative experience.
Just remember winning is a byproduct of failure. either you can win or you can try again, there should not be any other way and you should not give up just because it's hard and it doesn't work as you think. No matter what happens in your life keep trying.
A negative mind can never give you the positive life. Bad things happen in everyone's life, but some handle it positively without losing faith and believe. Our future is decided by how we can fight in our hard time. If you can stay strong in your tough time you will win.
A.P.J. Abdul Kalam says "For me, there is no such thing as a negative experience". If you can stay happy and positive in your bad time believe me no one can stop you from achieving your goals. Hard time can teach you many lessons, but make sure you attend that class.
The beginning is always hard and no one is going to support you in your bad time, but that's okay at-least you can support yourself and if you can support yourself then you don't need anyone else's permission.
Stay real and strong and make sure you stand with confidence even when you're alone. Your last mistake is your best teacher to learn from that and keep moving. No matter what happens to you, make sure you keep your mind towards positivity. Either you can ruin your day by thinking about your negative experience or you can learn from it and motivate yourself, it's up to you how you can handle that.
Bad time or negative experience is a part of our life and this thing is directly associated with our mind depending on how we react. Never lose hope and make sure you believe in yourself.
You've got to stay strong to be strong in tough times.
– Tilman J. Fertitta