This quote by Maya Angelou encapsulates an insight into life's purpose and aspiration. For a deeper understanding, let's break it down to explore its meaning in detail:
"My mission in life is not merely to survive, but to thrive": In this statement, Maya Angelou emphasizes the importance of living life to the fullest. This phrase perfectly captures the idea that life goes beyond mere survival.
Ultimately, this statement encourages everyone to lead a fulfilling life filled with growth, achievement, and joy.
"And to do so with some passion": Maya Angelou highlights the importance of passion. This statement perfectly captures the idea of forming deep connections to one's own interests, dreams, and ambitions.
Ultimately, passion reflects a deep commitment and dedication to one's goals.

"Some compassion": Maya Angelou inspires us to live life to its fullest while remaining empathic to others.
Maya Angelou once said, "Try to be a rainbow in someone else's cloud." Ultimately, she encourages us to live our lives in a way that brightens not only our lives but also those around us.
"Some humor and some style": In this statement, Maya Angelou emphasizes the importance of wit and humor.
There is one quote by Mark Twain: "Humor is mankind's greatest blessing."

A sense of humor allows us to keep a positive attitude even in the most challenging situations.
In the last, Maya Angelou reminds us to live with "some style." However, style goes beyond mere appearance. Ultimately, she encourages us to express ourselves as who we are without losing our authenticness, individuality, and uniqueness.
There is More to Life Than Merely Meeting Basic Necessities
Life is about more than just fulfilling our fundamental needs for survival, including food, shelter, and safety. While meeting these necessities is essential, human existence extends to an array of other experiences, aspirations, and pursuits.
Whether it is new experiences or self-discoveries, relationships, creative endeavors, or contributions to society, life is full of opportunities for growth and development.
Living isn't just about surviving; it's about pursuing passions, discovering purpose, forming meaningful connections with others, feeling joy, and finding fulfillment in various parts of life, including career, hobbies, relationships, personal growth, and positively impacting the world.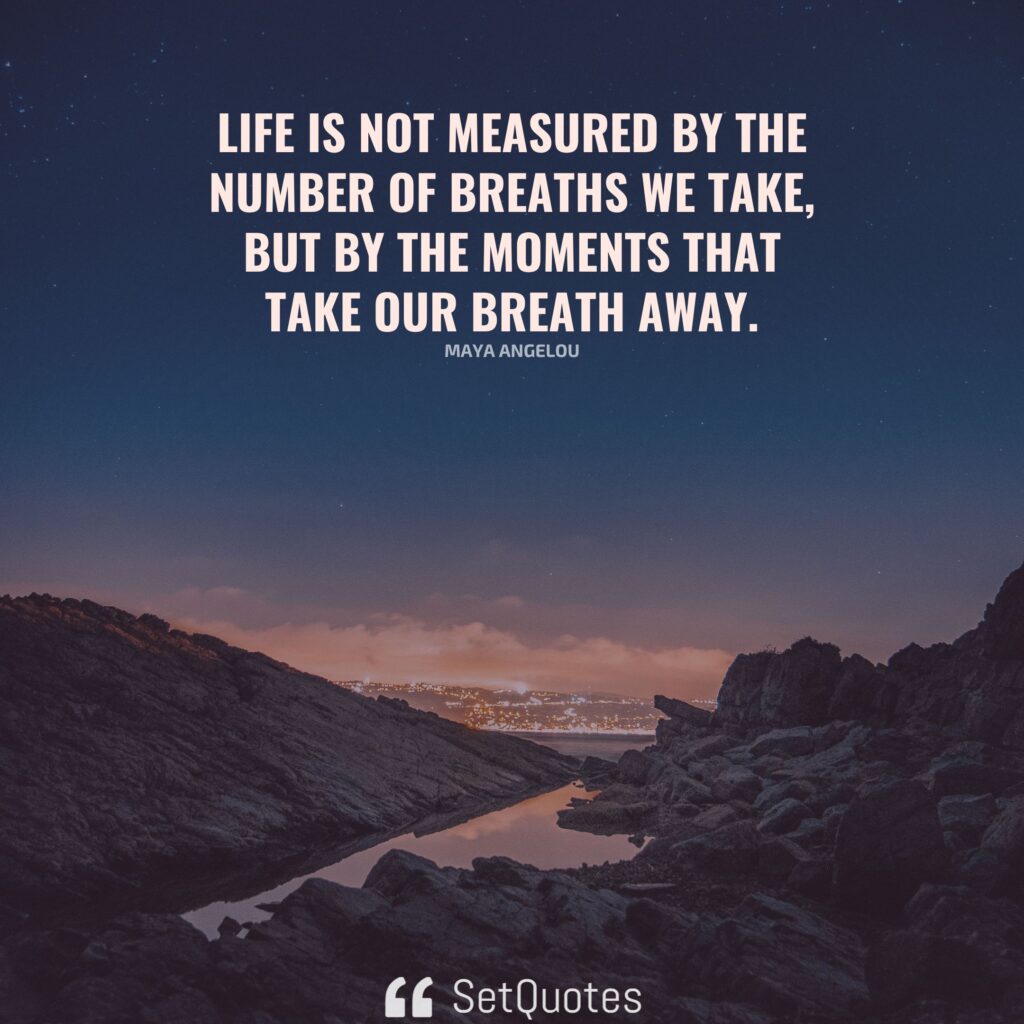 Life isn't measured by how many years you live but by how you live them. Life is not always about how many memorable moments we have in it; it's also about how many we create each day.
Life is not defined by the moments you live but rather by the moments you take to live them.
Life is not always about how stable or secure you are to be able to support yourself. Often, it is also about being able to stabilize again after falling several times. The ability to bounce back from a fall should be one of the characteristics of stability, shouldn't it?
Life can be fulfilling, rich, and meaningful when we realize that we don't have moments in life; we have a life in the moments. Every moment in our life counts and has the potential to make a significant difference.
Every moment of our life isn't any less than a gift. Our lives are filled with a variety of experiences and pursuits. Life isn't just about the moments we live; it's more about the moments we create. By embracing each moment, we can strive for a more comprehensive and satisfying existence.