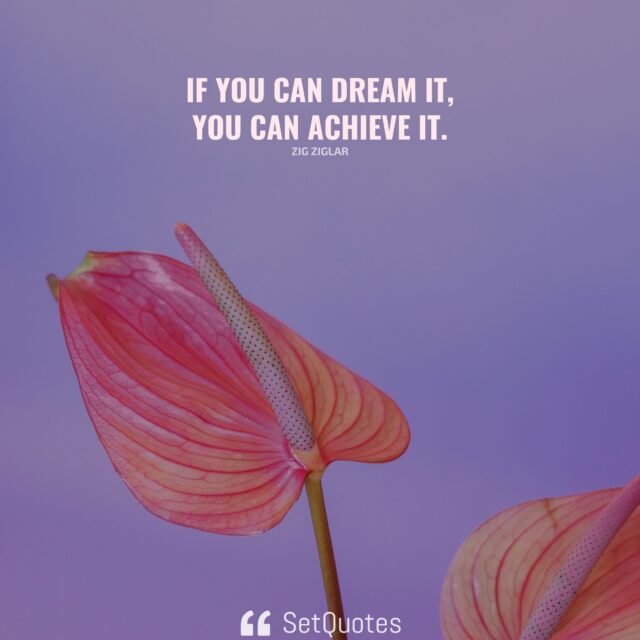 If you can dream it, you can achieve it.
– Zig Ziglar
Meaning of this quote:
Everything that we see in the world today started as a dream, so you must dream it first in order to make it a reality. They started with a vision, and through the planning, hard work, and smart execution it became a reality.
If you can dream it, you can achieve it too – vision is what inspires you to take chances, and this is what keeps you moving forward. Nothing can stop those who are driven by courage and strong desire.
However, being realistic is also one of the most important keys. There is nothing wrong with having great dreams or ambitions, but do not lose sight of the present. Set realistic goals, devise an action plan that is really achievable, and instead of trying to do everything all at once, do it slowly and one step at a time.
Be confident, but don't forget to evaluate yourself as well. Planning ultimately will help you determine whether your plan is feasible and practical or not. Keep in mind that moving forward in the right direction is essential, no matter how slow or fast you may go.
Have big dreams, but set realistic goals
There is nothing like impossible indeed, If you can dream it you can do it as well. But, do you think that it's practical enough in all cases?
Aim for the moon, but keep yourself on the ground. There is nothing wrong with having great dreams or ambitions, but, keep your goals separate and realistic. Remember, It's really easy to lose track and lose ambitions when one sets unrealistic goals.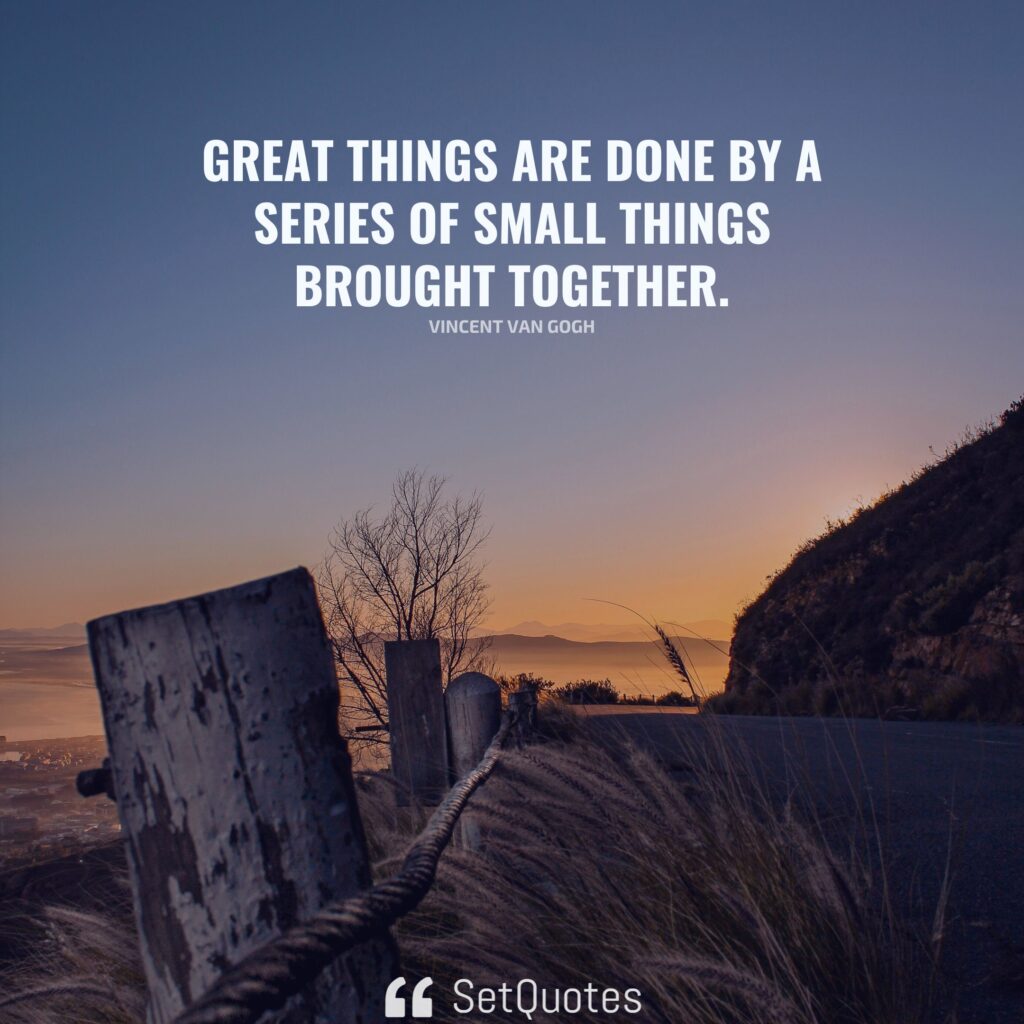 Great things are done by a series of small things brought together.
– Vincent Van Gogh
Objectives and goals must be defined clearly and have a deadline, and achieving these within a time frame is what makes sense. After achieving the first milestone, one can easily seek out the next, and that way one can get one step closer to their great ambitions.
People usually lose motivation as soon as they set unrealistic goals because it's easy to lose motivation when one starts chasing something that's nearly impossible. Therefore, it's important to learn when to keep trying and when to give up. This can save you a lot of time and resources.
Dreams and visions can be imaginary, but goals are real.
To put it another way, have a futuristic vision, but separate your goals from it and be sure your goals and objectives are clear, set the deadline, and make sure you're motivated by a proper roadmap that guides you in the right direction.
If you dream it, you can achieve it, but it takes courage and patience
Any dream can come true, remember, there are already great things that were once thought impossible, but someone made it possible and brought it into existence.
It certainly takes courage, hard work, great planning, and perseverance. It definitely not magic, no great things ever have been created as a result of magic or miracle, It's the result of pure hard work and perseverance.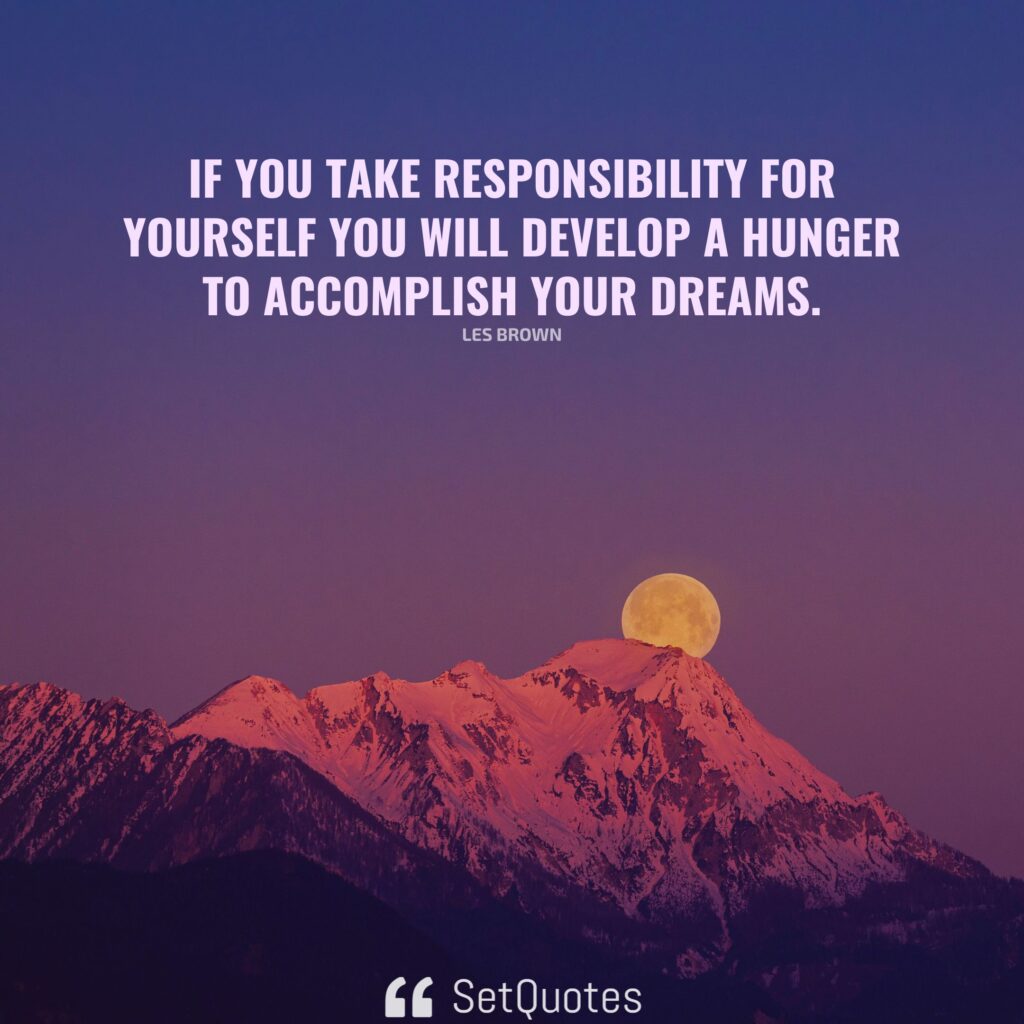 If you take responsibility for yourself you will develop a hunger to accomplish your dreams.
– Les Brown
You've to take responsibility for yourself and have to accept the fact that nothing happens on its own. Dreams are not going to be a reality by just merely hoping for it.
Miracles don't exist, there is nothing like magic either. Just stop believing in overnight success, because when the foundation is not strong enough, It can shake up everything in the long run. The only tried and tested formula that is likely to work in most cases is hard work, planning, and smart execution.
There is no doubt that it is not easy. If it was that easy, almost everyone would have been able to accomplish that. Remember, the toughest the path is the less crowded the destination will be. You've to believe in yourself and evaluate everything to make sure it's worth it before you begin taking your first step.
Follow nothing blindly. Don't do something just because "XYZ" is doing it. Find something that works best for you, something that makes you happy, something that fulfills you, and something that moves you forward towards your goals.
Every great dream takes great planning and smart execution. Don't forget to make a great road map that helps to keep moving forward in the right direction. In the end, It doesn't matter how fast or slow you go, what matters the most is to follow the correct path.
In order to succeed, we must first believe that we can.
– Nikos Kazantzakis