It is our choices, that show what we truly are, far more than our abilities.
– J. K Rowling
Context
Dumbledore says this in Harry Potter and the Chamber of Secrets (2002). The quote appears at the end of Harry Potter's second year at Hogwarts.
It's a good day for Harry that he just beat Lord Voldemort and saved his school. But Harry also notices that he's kind of similar to Lord Voldemort. Could that mean he's the next dark wizard?
I'm sure you won't wind up like him, Dumbledore tells Harry. You are deciding to do the right thing when you don't have to, unlike that nasty old Voldemort. Voldemort wants to hurt innocent people; Harry doesn't.
(Source/Credit)
Meaning of this quote:
The choices we make and the thoughts we think determine our lives. Our choices and thoughts determine what we become. There is one famous quote by Buddha: "What you think, you become. What you feel, you attract. What you imagine, you create."
Getting to the right place in life depends largely on your mind, that's what creates thoughts or makes decisions. Train your mind to make good decisions, and it will work for you.
Sometimes skills or abilities aren't enough; choosing the right things at the right time determines the outcome. Making crucial life choices is equally important.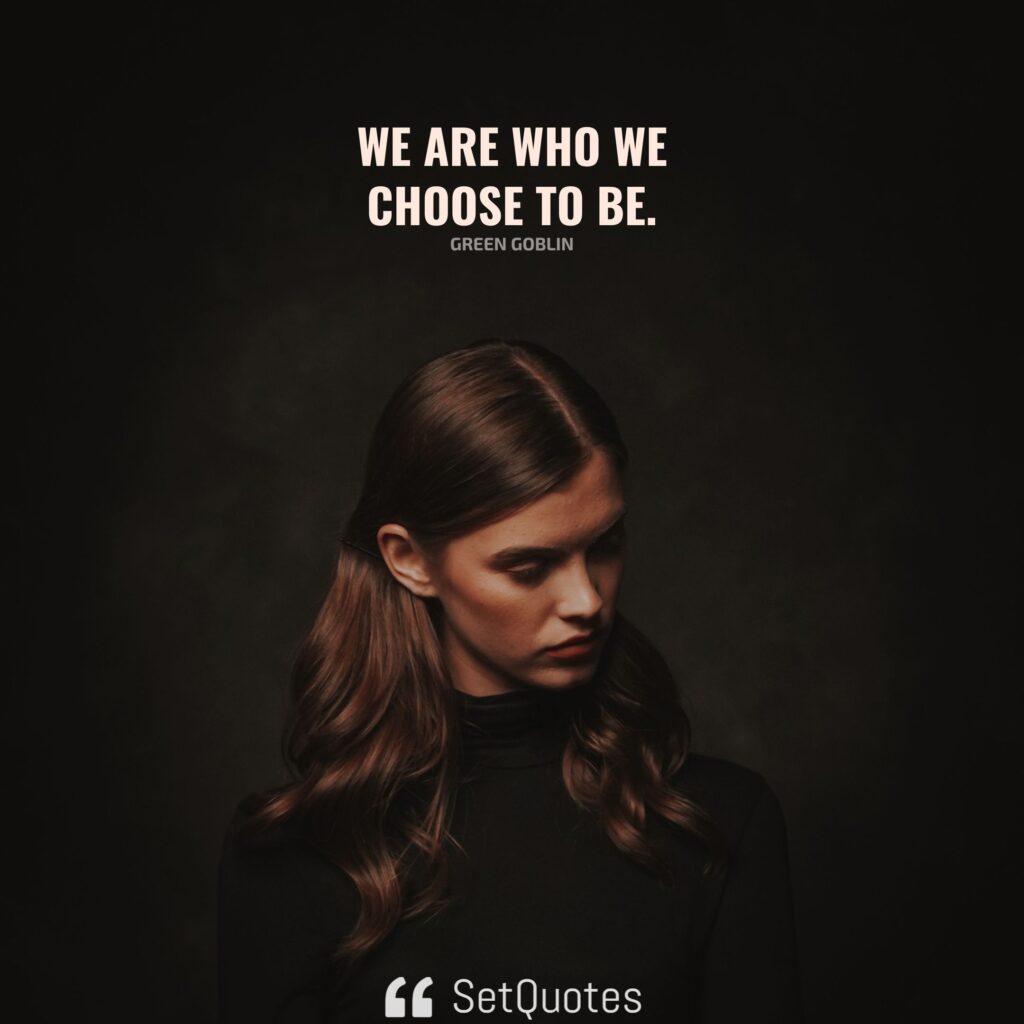 We are who we choose to be.
– Green Goblin
It is our choices that show who we truly are and that's what defines us. Your decisions and choices shaped your past. And whatever you decide to do today will shape your future.
The only way change occurs is if we decide to work on it. Nothing can stand in the way of your progress when you're determined and committed.
Determine what you can do best for yourself and others, and set a goal that will test your courage and push the limits; allow it to transform you into becoming the person who will achieve your dreams.
Change your attitude and it will change your future.
Oprah Winfrey, once said: "The greatest discovery of all time is that a person can change his future by merely changing his attitude."
Your attitude towards your life decides your future. It's challenging situations that force us to think about solutions in a whole new different way. During difficult times, we are tested, and when we persevere without giving up, we will grow as a person.
Challenges are what make life interesting and overcoming them is what makes life meaningful.
– Joshua J. Marine
Our lives are more adventurous when we face challenges, and the excitement that comes with overcoming them is what makes everything worthwhile.
There is a great line from Anthony Robbins: "The only impossible journey is the one you never begin."
Remember, nothing happens on its own. In order to make a change, you've to take responsibility for making the one. Things work when we truly work for them.
Start your journey, take the first step, grow through your journey, and let the beautiful destination embrace your courage as you move forward. Nothing is impossible as long as you take the initiative and you're courageous enough to try and try again without losing enthusiasm.
Your choices and thoughts are very powerful, everything around you is the product of someone's choices and actions. Make sure you focus your mind on things that truly matter, let them guide your life in a positive direction.
In every success story, you will find someone who has made a courageous decision.
– Peter F. Drucker