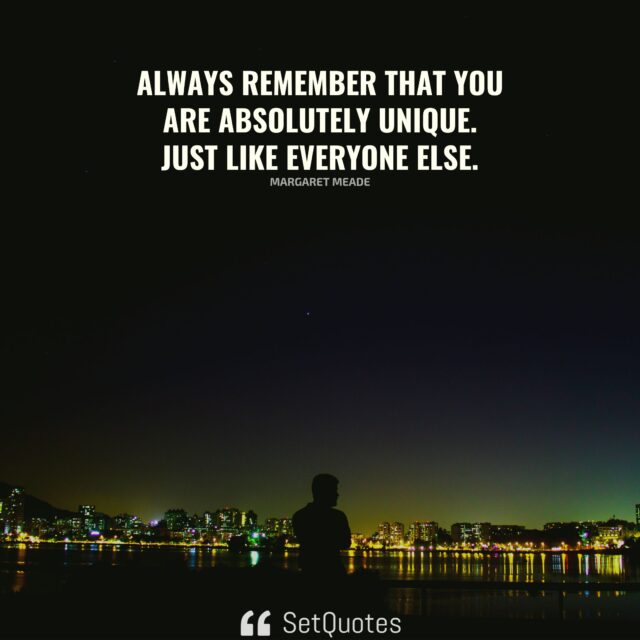 Always remember that you are absolutely unique. Just like everyone else.
– Margaret Meade
Meaning of this quote:
Each of us has unique flaws and strengths, which makes us unique in the true sense. Everyone has something unique to offer. Everyone thinks, perceives, and visualizes in a unique way.
Be who you are and stay true to yourself. Why be someone you're not when you can simply be yourself? Each person lives their life according to their values, there is no right or wrong, it is more important to feel good about ourselves than to care what others think.
Each individual has unique expertise to offer, but the key is to identify the right one. Identify the strengths that set you apart from others. Remember, the words you say and the ideas you share can make a positive impact on others.
Don't let pleasing others keep you from being yourself. Living up to our expectations is much more important than living up to others' expectations. It is essential to set realistic expectations to keep life straightforward.
Compare yourself to no one; you are not competing with anyone
Everyone is unique, including you. Don't forget, there isn't a competition, and you aren't competing with anyone. Be proud of who you are, embrace yourself, and recognize that your only competition is "you".
It will always be "you" vs. "you". The most important thing is to keep stepping up and strive to become better than you were yesterday. Whatever you do, do it to the best of your abilities and with a far better approach than before.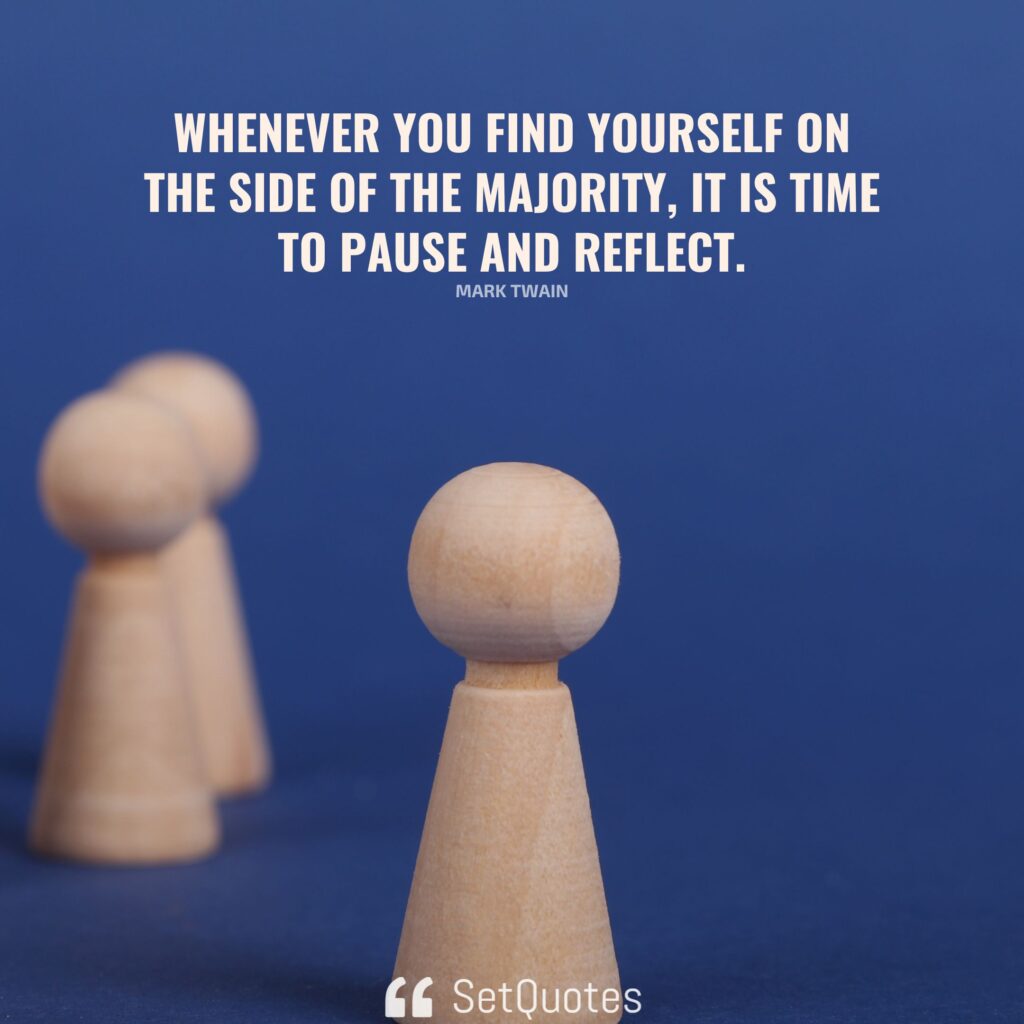 Whenever you find yourself on the side of the majority, it is time to pause and reflect.
– Mark Twain
Don't take your uniqueness for granted. Never follow the crowd just because everyone else is doing it. Don't make a decision based on what your surroundings are doing. The key is to make choices that reflect your uniqueness and fit you well.
Own your strengths as well as your weaknesses, and stay true to yourself. Is it not true that the ability to remain unaffected by someone else's negative opinion is a great achievement?
Success is not compromising our core values or uniqueness for anything else. We usually succeed when we don't focus too much on it. Remember, you do not have to exchange your integrity for anything else.
We can't be like someone other than ourselves, just as someone else can't be like us. We are all unique in our way. What's the point of being someone else's second version when you can just be you?
Everyone is remarkable in their way, and so are you. Each of us has something unique to offer. Keep believing in your strengths, and let your uniqueness add value to everyone's life.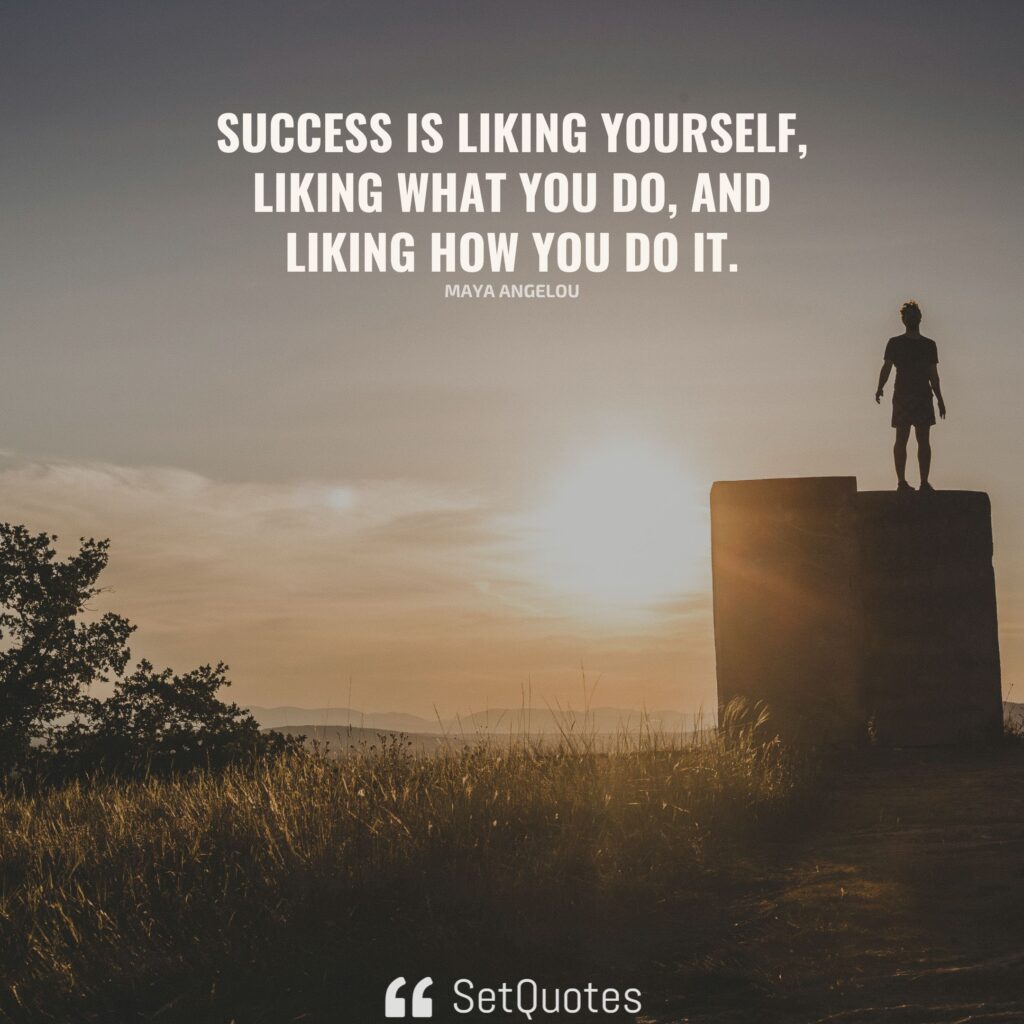 Success is liking yourself, liking what you do, and liking how you do it.
– Maya Angelou