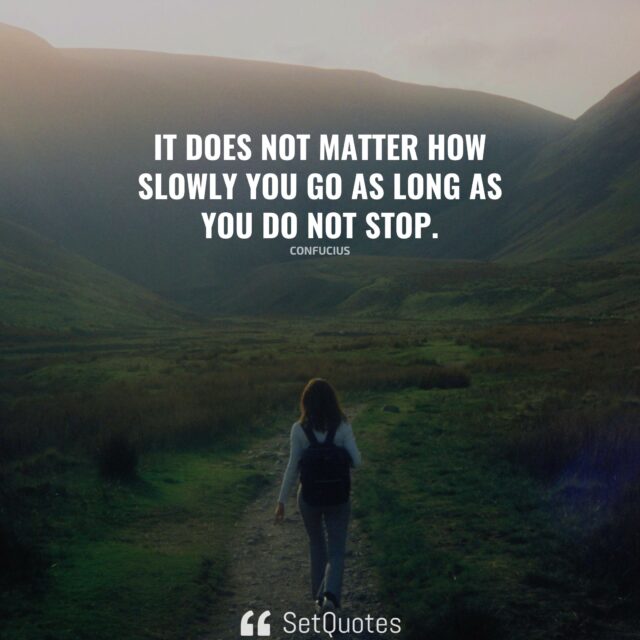 It does not matter how slowly you go as long as you do not stop.
– Confucius
Meaning of this quote:
Regardless of how fast or slow you go, the most important thing is to keep going and keep working towards your goal. Nothing can stop you from achieving something as long as you don't stop and work hard consistently.
What we do when we face failure or challenges defines the final outcome. Either you can run from it or you can face the challenge and keep going no matter how slow you go.
However, do you believe that running from challenges solves anything?
Doesn't giving up and refusing to accept challenges make everything worse?
It makes sense to keep up with whatever you're doing as long as your idea is feasible enough and as long as you keep believing in yourself and your inner strength.
keep up the momentum
Motivation never lasts. Even if you are motivated enough to complete a task, it doesn't mean that you will feel the same way in the long run. And that's why momentum is so important.
The key is to build a habit, anyone can easily form them by consistently doing the things which it takes to get closer to your goals. Plan out your next moves, schedule the tasks and keep doing it each and every day according to your schedule. In this way, you were able to build momentum, which allows you to accomplish the task even when you're not motivated enough.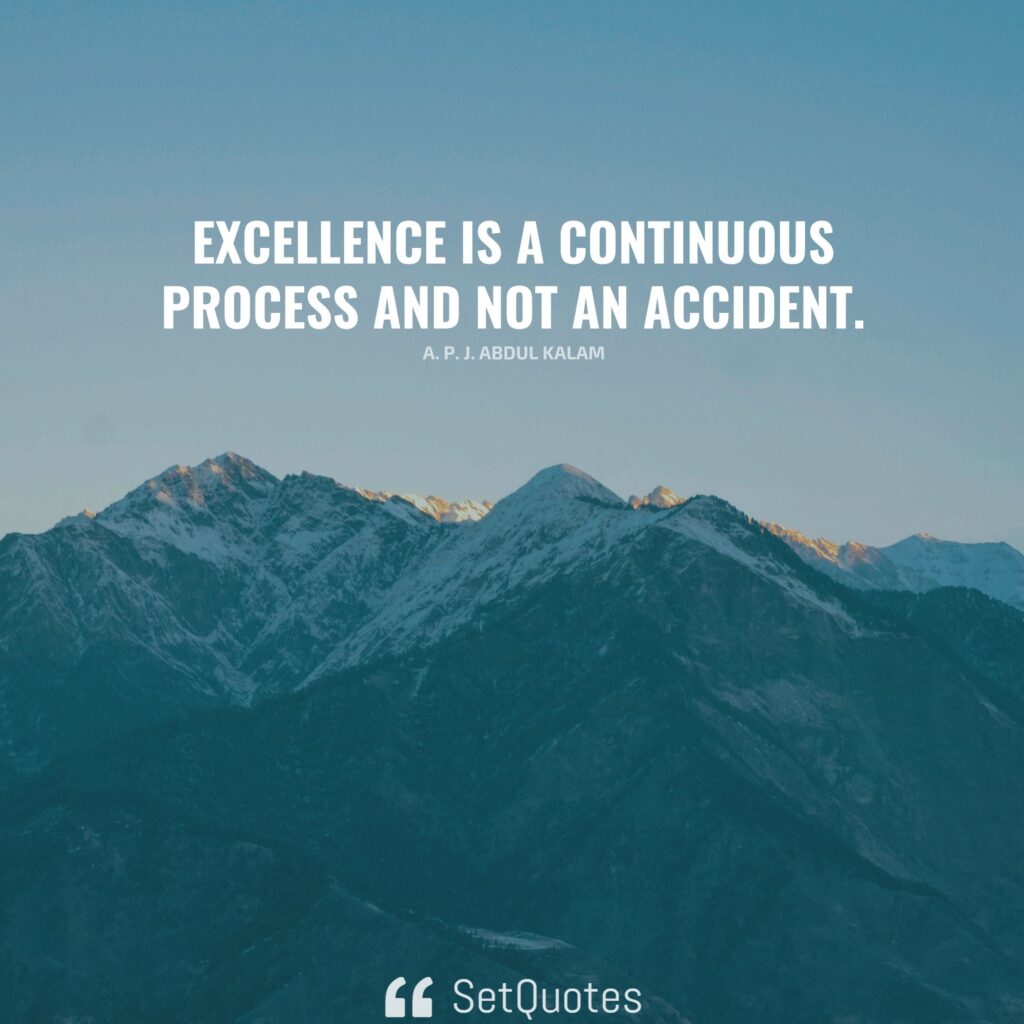 Excellence is a continuous process and not an accident.
– A. P. J. Abdul Kalam
It takes consistency and perseverance to stand out from the competition. It's not easy, but, this is what a tried and tested formula looks like.
Those who've achieved excellence in their field aren't just lucky enough to hold that position, but have worked consistently hard and are passionate about what they do. A continuous process defines them and is what sets them apart from others.
Start believing in hard work because that's the only way to make magic happen. The more you work towards something, the better the chances of you finding opportunities in the future.
Keep moving forward, It does not matter how slowly you go
There is one great quote by Albert Einstein, Life is like riding a bicycle. To keep your balance, you must keep moving.
Starting something new takes courage, getting started with something new isn't easy, It will taste everything including your self-confidence and strength.
Once you plan out every little thing and continue to move forward, eventually everything falls into place. The real key is to take the first step and then continue to move forward at your own pace, no matter how fast or slow you go.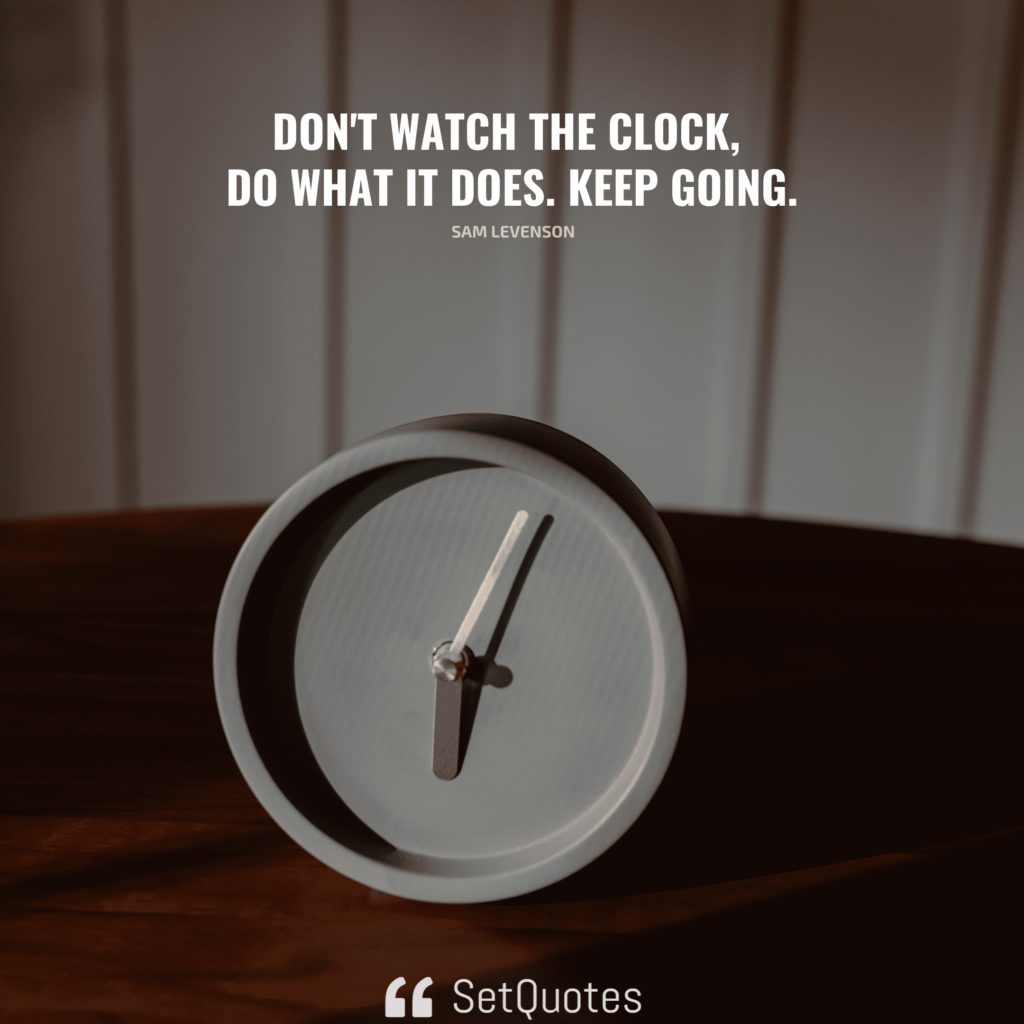 Don't watch the clock; do what it does. Keep going.
– Sam Levenson
The right time never comes. Let go of watching the clock or waiting for it to be the right time. The present is the best moment to start something close to your heart. Don't wait for circumstances to permit you to begin. Wait for nothing and start initiating the first step.
A bicycle analogy fits very well with this context, we tend to lose control in the moment when we decide not to paddle, and once it reaches a low speed. Taking this analogy further, when you reach a certain low speed, don't lose balance, let your leg touch the ground and keep a firm grip on it, take a break, reflect on yourself, start again, and continue your journey till you reach your next destination.
It isn't wrong to lose your balance or fall off, though, what really matters is to get back up, get back on track, and continue pursuing your dreams. You can almost never be stopped by anything external as long as you are driven by strength and desire.
Concurring with challenges and overcoming difficulties is what makes life exciting and meaningful. Enjoy it, get used to it, and allow it to strengthen you to the point where no obstacles can slow you down or stop you.
Ralph Nader, once said: "Your best teacher is your last mistake".
Excellence is achieved by those who never let their mistakes or failures deter them from trying again. The key is to always be better than we were yesterday. Constant improvement will bring great results.
Most of the important things in the world have been accomplished by people who have kept on trying when there seemed to be no hope at all.
– Dale Carnegie