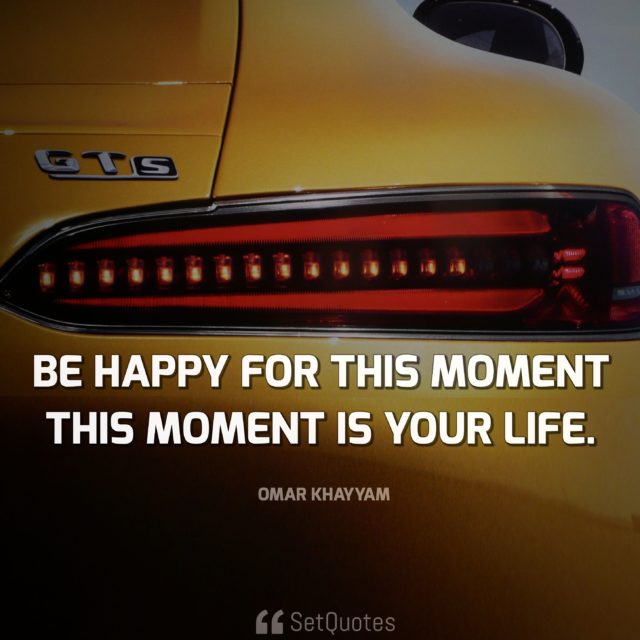 Be happy for this moment. This moment is your life.
– Omar Khayyam
Meaning of this quote:
Be happy for this moment, Don't try to sacrifice this moment in the hopes of better one. It's a life and all moments must be same and important. Be happy for this moment because this moment is also a part of your life.
Don't kill your present moment by worrying about the next day. Life is meant to be happy. celebrate the happiness and keep smiling. We all are already blessed with many great things. Don't steal your happiness by worrying about tomorrow, live in a present and embrace every moment in your life.
"Happiness is the art of never holding in your mind the memory of any unpleasant thing that has passed". – Unknown
Overthinking kills the happiness. Make sure you have goals and dreams because goals help us to move forward in our life. If you want to be happy then stop Overthinking about everything, Don't try to find the meaning of everything and learn to accept what you can't change.
Sometimes we fail to live our present moments because we try to change the things which we can't control. A better option when things are out of control is acceptance, Make sure you accept what you can't change because we don't have to ruin our present in the hopes of a better tomorrow.
Be happy for this moment:
Albert Camus says "To be happy, we must not be too concerned with others."
We all have to accept more rather expect. Expectation always hurts, Don't let expectations steal your happiness.
Money can't buy happiness, A positive soul can
Read: Money Doesn't Buy Happiness, Neither Does Poverty
Believe in yourself and start chasing your goal. Find what makes you happy and choose that as a career. Many people are in depression and stress because they are spending their time at jobs which they hate. The only way to live a happy life is love what you do.
It's your life, live it under your terms. Stop complaining about the situations which are not in your control and start living. Optimism is the key to success. The best way to be happy is to do what makes you happy because it's the way to embrace every moment in your life.

live what you love – Jo Deurbrouck
Live this moment, live in the present. Feel each and every second of your life. Stop wasting your time for regretting the things which may be never going to happen in the future. Be positive because a positive attitude can give you the best in your life.
Happiness is not something you postpone for the future, it is something you design for the present. – Jim Rohn
Embrace each and every moment of your life. Happiness can bring the best thing in your life, make sure you can be happy and positive no matter what happens in your life. You can win If you can be happy and optimistic in your bad time. Positive attitude generates great ideas and it can make us more creative. Be happy for this moment and live your life as you want. You're the director of your own life, make it worth watching.
  positive attitude and a healthy mind can buy happiness.